Today I'm starting the first day of the "real" experiment (last week was a "washout" period to normalize everything). I'm starting with Grape Seed oil. Why Grape Seed Oil? well, it has the highest Poly Unsaturated Fatty Acids (PUFAs) of any oil I could find, including Soybean oil (ok, technically I think Walnut oil has a slightly higher amount but walnuts give me canker sores and I didn't want to go there). Why am I going to be doing a week of PUFAs? let's recap in case you missed it:
In my earlier 4 week test, I did a week of avocado oil and I got some really weird results with my triglycerides. I asked Dave Feldman about it and he suspected that part of the cause may have been that I went from using heavy cream as a fat source to avocado oil – which is going from primarily saturated fat to mostly mono-unsaturated fats with a little poly-unsaturated. My body likely wasn't used to that much PUFA so it may have been the cause. The only way to be certain would be to isolate out an oil that was exceptionally high and compare it to saturated, and mono-unsaturated (MUFAs) fats.
[visualizer id="23814″] [visualizer id="23810″] [visualizer id="23815″] [visualizer id="23803″]
So what's the big deal about PUFA vs. MUFA vs. Saturated? Some of it is simply the way the molecules are set up, a major part is that seed oils (which are typically very high in PUFAs) aren't something humans have consumed for very long, less than 100 years and often shorter. Our metabolism really doesn't know what to do with them and the high Omega 6 causes inflammation and oxidative stress. By definition a poly-unsaturated fatty acid is a chain of carbon and hydrogen atoms that have multiple double bonds, Mono have a single double bond, and saturated have only single bonds: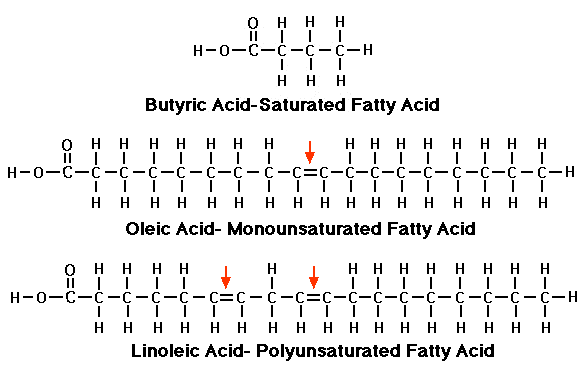 Saturated Fats are exceptionally stable and resistant to oxidation ("Reactive Oxygen Species" is a term you'll hear a lot) – this is why your grandma kept a bucket of lard on the counter and it never went bad. MUFAs do oxidize, though they're quite good – Olive Oil is primarily MUFAs. PUFAs oxidize like crazy – in heat and even in light! But because the Diet-Hear Hypothesis that fat = bad, cholesterol = bad depends on the ideal that lowering cholesterol is the end-all-be-all, the fact that PUFAs lower cholesterol (while causing inflammation but that's ignored) means they are "Heart Healthy" and recommended for consumption if you absolutely MUST have fat in your diet. Problem is: our bodies LIKE saturated fats because they know what to do with them so we have companies modifying PUFAs to look, feel, behave, and taste more like saturated. Thus Trans-Fatty Acids were born. We artificially add hydrogen atoms to make PUFAs into Saturated. "Partially Hydrogenated Vegetable Oil" is code for Trans-Fat and fortunately everyone agrees that trans-fats are awful. In part thanks to the work of Nina Teicholz. If you'd like to go down the rabbit-hole on the history of fat, I highly recommend reading "The Big Fat Surprise: Why Butter, Meat and Cheese Belong in a Healthy Diet" which Nina wrote. It's absolutely fantastic.
Anyway, I got my first blood test of the experiment today. I feel sorry for the poor employees at the Draper, Utah LabCorp location. They used to be a walk-in only location but ever since I've been going there, you can make an appointment online (which is what I've always done). Well there were 3 of us doing blood tests together so we all just carpooled. Well, some people had been there waiting since just after 8 and they took all 3 of us with appointments right at 9 – ahead of the people that had been waiting. Conveniently there's a card with info to call to express your displeasure and the phlebotomists encouraged the people to do so. I thought there was goign to be a riot =(