Apparently I drank too much water yesterday and my weight ticked up from 209.4 to 210.7 – wasn't the direction I wanted to go for my 6 month keto anniversary.
I was hoping to reach an even 50lbs lost but it was not to be (that would have been 207.8) and today I'm sitting at 47.1 lbs lost.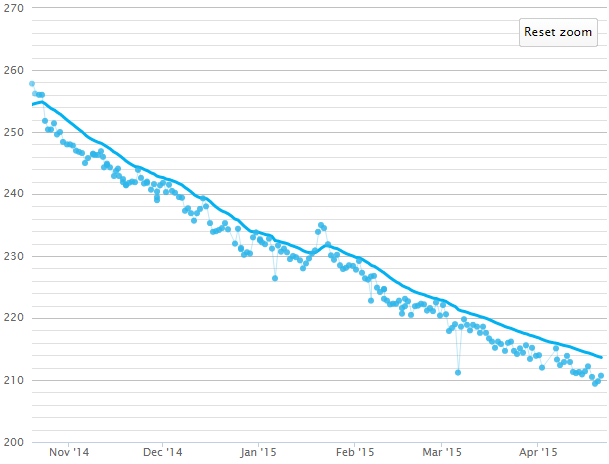 Aside from the weight loss I've also
lost 2 shirt sizes (XXL to L)
lost 4 inches (38 to 34)
Made 4 new holes in my belts
Won second place in a weight loss contest
MyFitnessPal says I'm on a 182 day streak.
My scale says I've gone from 36.9% body fat in November to 26.6%
From a BMI of 34.0 ("obese") to 27.8 ("overweight") and am getting closer to the "magic" 24.9 where I won't even be "overweight"!
My blood pressure has gone down from 142/98 to 128/84 (it was actually lower last week but whatever)
Here's a really brief summary of my experience that I've stolen from one of my own posts on Reddit:
I've tried 5 different formulations of Ketogenic soylents over the last 6 months and it's what I'm currently using as my staple (although I do still eat some beef jerky, kipper snacks, bacon and whatnot).
I've tried:
QuidNYC Induction Phase Ketofood – WAY too much chia seeds and other stuff. I couldn't even do a full week
QuidNYC Ketofood for ongoing ketosis was tolerable compared to the induction. It tasted far better though it was still really gritty. I changed the recipe a bit to suit my own tastes
Ketosoy – made by fellow redditor /u/ketosoy – it's pretty good, especially compared to Ketofood. Far less gritty, it was was opened me up to the possibility the ketogenic soylent could actually taste good.
Kennufs Keto 9.3 – by /u/kennufs this recipe changed everything for me. Hardly any grit at all, tasted amazing thanks to ample heavy cream, even my wife thought it tasted good. I cloned his recipe, changed some stuff around and made my own…
Keto Chow – I aligned many of the ingredients with stuff I had from making super carby "People Chow", took out the coconut flour, added moar fiber and changed the protein to one I could get quicker (next day vs. 9 business days). I'm currently consuming Keto Chow and plan to do so for the foreseeable future. It's tasty enough that even when I do hit my target goal I won't have any problem continuing with it as my staple.
For any that are insanely curious, here's my weight for the last 15 months drinking soylent. You can see where I started People Chow, slowly gained the weight back and then started Keto.