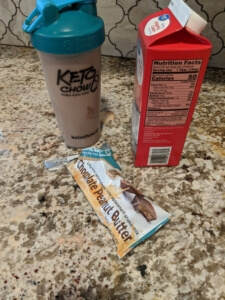 Been wanting to try Chocolate Peanut Butter Keto Chow but didn't want to get a full 21-meal package? Today you can order the sample size! Note that the packaging is quite different: it may LOOK like a protein bar, it's not =)
I honestly didn't think this day would ever arrive. The last time we had samples of Chocolate Peanut Butter was version 2.0.0 (nearly 2 years ago) because the fat in the peanut flour would clog the packaging machine. The key to ultimate success was going BACK to the same style packaging we used so long ago but abandoned for the more "looks like a packet of protein powder" style we currently use. One of the reasons we switched to the other style packaging for the rest of the flavors is that this style causes a lot of confusion – people think it's a protein bar and we will be getting that question again. I'll take fielding those questions over the "why don't you have Chocolate Peanut Butter samples?!!" questions we have gotten daily for the last 2 years (which is understandable – since it's amazing!).
We will not be putting these into any of the bundles for a few months. This was done as a small run "proof of concept" to see if it would work (one of a half dozen such tests that were unsuccessful, until this one!) and we don't have enough of them to put into the bundles. A larger quantity is in process but will take several months to arrive. I expect we will have sufficient quantity to put into the bundles by August or September 2020. Until then, they are available for purchase separately.