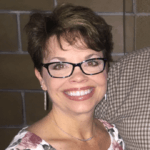 Am I really going to do this for 100 days?  Oh my.  Right now, that feels like such a loonnngggg time.  April 12.  Ugh.  Yeah, so there is a part of me that is re-thinking my commitment to this project.  But the in-control part of me feels rather settled into this new liquid diet routine.  As much as I miss my favorite keto meals (chorizo & eggs, pizza toppings, taco salad, buffalo wings, omelet, grilled chicken Caesar salad…), I really love using Keto Chow for all of my meals.  The decision-making process regarding what will be for lunch or dinner is a simple choice between Chocolate Keto Chow and whatever other flavor(s) are currently pre-made and waiting in my refrigerator.  Yum!
No matter what Keto Chow flavor I choose, my last meal of the day is ALWAYS warmed up.  Oh, how deliciously comforting it is to wrap my hands around a large soup mug and sip warm Keto Chow.  If you haven't tried it, you really should.  In my microwave, it takes three minutes to get to just the right temperature.  I stop it once or twice in the middle to stir it (if I don't, the liquid expands a little too much for my mug and overflows).
Back when I first became a Keto Chow customer in November 2017, I went "flavor crazy".  Oh my goodness!  At some time or another, I have tried every single shake flavor that is offered (the only one I really didn't like was Banana).  In addition to trying all of the flavors and combining many of them (i.e., Strawberry-Banana-Chocolate, Chocolate-Caramel, Vanilla-Mocha), I bought 26 bottles of sugar-free flavored syrups (Torani and DaVinci brands).  I was out of control, trying different flavor combinations at every meal.  I even experimented with adding differing amounts of xanthan gum to my mixes.  It was so fun!  Things have calmed WAY DOWN since those days though.  Now I just have my few favorite Keto Chow flavors and my few favorite sugar-free flavored syrups always in stock and am completely satisfied.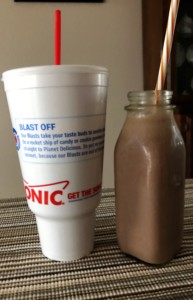 Last Sunday, my husband chose his favorite local buffet for lunch.  He is supportive of me in this project, the least I can do is accompany him out to a restaurant once in a while.  It's not super-tempting to sit in a restaurant or at a meal with other people who are eating.  But it's not super-easy either.  I'm not sure how to describe it.  It's certainly not fun, that's for sure.
One of my sisters who lives out-of-state was in town for a couple of days this week and I had the opportunity to meet with her Monday after work.  She does keto too (and keeps Keto Chow on hand even though she's not an every-day consumer like I am) so I knew I could count on her to place my order at Starbucks since she goes there literally every day and I almost never do.  I had a sugar-free cinnamon hot macchiato with unsweetened almond milk (or so they claimed unsweetened – I have to admit, I don't fully trust restaurants) for what I think was – fingers crossed – 100 calories and 7 net carbs.  It was GREAT to spend time with my sister and enjoy a "treat" in sort-of a restaurant setting.  Even if the barista didn't use the right ingredients, my ketones didn't seem to be affected so it's all good.  😉
Speaking of ketones, I started checking them right before lunch instead of right before dinner a couple of days ago.  I'm just trying to be more consistent to check at/near the same time each day.  I also added trend lines to my charts this week just for something different.  Whoopty doo.  🙂
With a Day 1 weight of 135.6 and a weight today of 131.8, I have lost almost 4 pounds in 3 weeks.  I think that is awesome!  I am back near my lowest weight and feeling much less like a stuffed sausage in my jeans.  I did NOT like that feeling, and I was determined to not buy a bigger size!
I have to say that Chris' adding cheese to his Keto Chow soup had me a little bristly.  It seems like a slight stretch to say cheese is well within reason – but maybe I'm just jealous since I don't have any Keto Chow soup on hand at the moment.  If I did, I guess I could make Keto Chow using cheese as my fat source.  Hmm, I hadn't ever thought of it that way until just now.  I had thought of cheese as an extra in addition to the fat source (and therefore too many calories).  I think I'm liking (and approving of) this idea after all!  Now I have to add Savory Chicken Soup to my next order.  Thanks for the idea, Chris!