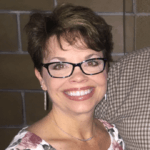 This has been a fun week for me!  Spending three days with one of my sisters and her family was a much-needed and enjoyable break from regular life.  Three days goes by in a blink.  When scheduling my trip and then during the time leading up to the trip, I was a little nervous (for lack of a better word) about the liquid diet aspect of life and how that would translate when traveling.  I even considered choosing a trip date post-April-12 when I was booking my flight.  But I honestly did not want to wait that long to see her!  A few days before the trip, I finally reminded myself to focus on enjoying the trip rather than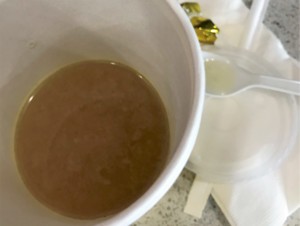 overthinking the diet.
What could I have possibly been worried about?  Everything went GREAT!  In an airport, I paid $2.47 for a cup of hot water so I could mix up some bouillon.  I will try to do that differently next time.  😉  When I was feeling a little shaky during a flight, I tipped a little salt packet onto my tongue and chased it with some bottled water.  My incredible sister made my diet a breeze for me by stocking up before I arrived on everything I would need including heavy whipping cream, diet soda, and flavored sparkling water.  She already had large Blender Bottles.  I remained hydrated during each day's activities and easily stayed on my usual schedule.  When she started making dinner for her family each day, I started mixing up my first shake of the day then had my other two shakes within the next few hours.
The most difficult part of the trip for me was Sunday morning during the layover between flights.  Even though I had a coffee earlier, a water on the first flight, and was sipping on a diet soda, I just wanted to eat.  It wasn't the food I was seeking though – rather, it was the comfort and relaxation I was wanting.  I was exhausted – I had gotten up at 3:00 a.m and I was longing to be home.  All I could think about was the fact that almonds and possibly Quest bars were right there at every snack stand and shopping spot located such short distances away.  I gathered my resolve and buckled down to staring at my phone intently.  I scrolled through all the comments on my familiar Reddit keto sub groups and the Keto Chow Facebook Support Group.  Being engaged in these active support systems really helps me every day so it fits that this is where I turned when I was struggling.  By the time I arrived home,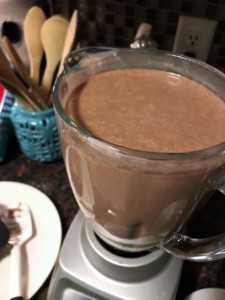 I was ready to drink the two Keto Chow shakes I had left in the refrigerator before my trip.  After a nap and a few chores, I mixed up a bunch of shakes so that we are stocked up again – 12 shakes for my husband (4 each of Strawberry, Chocolate, and Salted Caramel/Chocolate) and 18 shakes for me (6 each of Snickerdoodle, Cookies and Cream, and Salted Caramel).
My ketones were a little wonky on the days around the trip (charts are below as usual) – and I forgot twice to even check them.  The day after I returned home, the scales indicated a weight loss of 6 pounds which I'm sure was due to hydration levels especially since my weight went back up 3 pounds the next day.  After this week, I think I'll skip adding the charts when I write each week (they are boring since the numbers are the same every day) but I won't stop tracking the data.  I think I included the charts in the beginning for accountability.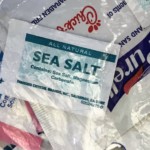 Tip:  Those little salt packets are great to keep in your purse.  You can pick up a couple when you see them in fast-food restaurants.  Or you can keep a little flask of Keto Chow's Fasting Drops with you.  I will have mine soon because I have an order (along with Savory Chicken Soup and Chocolate) arriving later this week.
Chris mentioned me by name in his Day 41 video!  It is cool to me that he remembers I once did "only Keto Chow" for longer than he ever has.  Woo hoo!  In his video, he gave me credit for over 160 days…  the stint he was referring to started at the beginning of November 2017 and lasted until sometime in March or April 2018.  Unfortunately, I do not remember the exact ending date or exactly how many days I did (Chris might know better than I do!).  That extended liquid diet was interrupted in the middle by a cruise in January 2018, though, so I never felt I could claim the entire length of the liquid diet anyway.  While on the cruise, my husband and I ate one or two reasonably small keto meals and drank one or two shakes each day (we both lost weight!).  During those five months of liquid diet, I was journaling my experience on Reddit under a username that I have since deleted – so I lost a lot of information and stories that I wish I still had.  🙁  Little life regret.
By the way, does anyone else shake their Blender Bottles as aggressively as Chris shakes his?  Has anyone else even noticed what I'm talking about?  I watch him in wonder because when I mix a shake in a Blender Bottle, it goes quickly:  water, cream, powder, lid, sideways shake, upwards shake-shake-shake, more water, shake-shake, done.  He shakes and shakes and SHAKES each bottle!  I am physically unable to put the amount of effort into mixing a shake like he does.  So thank goodness the product doesn't require it.  🙂
Back at work on Tuesday, I forgot to eat lunch.  Of course, I am technically speaking of my first shake of the day which I have been drinking at 4:00 p.m.  At 4:50 p.m., I suddenly realized I had not eaten yet.  I didn't even feel like I needed to eat!  This was unusual because most days I am counting down the time for 4:00 p.m. to arrive.  Since I was heading to yoga soon and didn't want to wait until 7:00 p.m. for my first shake,  I went ahead and drank it about 5:15 p.m.  Hunger has been almost non-existent this week.  This is a huge relief after having many days of thinking about food all day long.
Speaking of Chris and his videos…  I really enjoy listening to him (along with Miriam and others when they chime in) talk about the day's happenings.  It makes me smile to know that I am not alone on this liquid diet journey!  Like him, I am starting to make plans for what those first meals after April 12 will be…