Weight: 202.9
Blood ketones: 0.6 mmol/L
Alright, so I made it to 46.4 hours without eating – let's analyze how it went!
Mood and how I felt. First off, my lack of sleep yesterday was the biggest detrimental factor in the experience. If that had not happened (thanks a lot brain!) I probably would have gone longer, maybe 48 hours, maybe 72 – dunno. I don't think I'm going to make not eating for several days something I do often since it was rather extreme (obviously); I'll likely continue doing intermittent fasting here and there. I think I might have also been low on electrolytes since I was feeling sluggish, then again that could have been the sleep (or lack thereof).
Let's look at the blood results. Tuesday morning (~8 hours) I was at 0.2 mmol/L of ketones in my blood. That evening (~18 hours) when I tested myself again I was up to 1.1. The next morning (~32 hours), even though the only thing I had "eaten" was two fish oil pills the night before, I had gone down to 0.9. When I came home from work that evening and tested again (46.4 hours) my ketones were all the way up to 3.5 mmol/L. After which I had two Keto Chows (Chocolate Peanut Butter), 4 pickles and a couple spoon fulls of ham soup my awesome wife had made. When I tested my blood again this morning, my levels were all the way down to 0.6. Honestly it makes no sense why it's down again, it just further re-enforces the notion of "don't chase ketones, just keep calm and keto on" – or don't do what I'm doing and test your blood every day, just keep doing keto (no cheating!) and it'll work out. You also shouldn't get too anxious about the scale, which brings me to…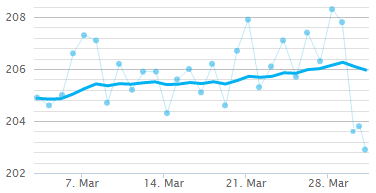 Weight results. Well, I came into this from a rather large (keto friendly) Easter dinner which loaded me up on salt and lots of water weight – all the way up to 208.3 lbs on Monday morning. By Tuesday morning (8 hours fasting while sleeping) I was only down to 207.8. lbs. By Wednesday morning I had dropped to 203.6, a slight up-tick Wednesday evening when I weighed myself again and as of this morning I was down again to 202.9 lbs. Monday – Thursday difference is 5.4lbs. Now it will be interesting to see if I can stick with it and continue going down. On a happy note, yesterday was also the weigh-in day for my city's weight loss challenge. According to the scale there, I was down 6 lbs from the previous week. Nice.