No gluten? No problem! There's a gluten-free (GF) version of pretty much everything now, but how do you know what's actually good? Here are some of our failsafe, easy gluten-free recipes…
Breakfast
1. Banana-Walnut Bars
All the flavor of the classic banana muffin…but it's GF (obviously). And in bar form, so it's even easier to eat than a muffin.
2. Pumpkin Spice Crullers
Don't let the name confuse you. They're donuts. Dazzlingly delicious donuts. (And yes, they totally count as breakfast.)
3. Caramel Keto "Oatmeal"
This version has wayyyy more nutrition value than standard oatmeal AND it tastes like a caramel macchiato. Score!
4. Green Smoothie
The perfect solution for busy weekday mornings, this smoothie will give you an energy boost to get you through your day.
5. Irish Cream Belgian Waffles
Waffles don't have to be off the table just because you're eating GF. This version, which is also super low in carbs is FAB!
6. Sweet Cinnamon Protein Crepes
There's just something about a leisurely weekend brunch with crepes and luckily, you won't have to miss out on that with this recipe.
7. Everything Bagel Chaffle
If you're new to the Wonderful World of Chaffles, allow us to introduce you. Chaffles are cheesy, crispy pieces of goodness with only a few simple ingredients, making them an easy win for busy mornings.
Lunch
8. Leek and Asparagus Quiche
Delicious whether served hot or cold, this luxurious dish is deceptively simple and rich enough to satisfy the heartiest appetite.
9. Spring Salad with Tomato Basil Dressing
A beautiful, colorful salad that feels like a little piece of spring that you can carry in your lunchbox.
10. Creamy Garden Soup
Get your greens for the day in a bowl of steamy, creamy deliciousness.
11. Tomato Basil Egg Bake
This Mediterranean inspired vegetable egg bake is perfect for any meal.
12. Veggie Burgers
Vegetarian? You probably already know the pain or trying to find a good GF burger then. Luckily, this veggie burger is packed with savory flavor and makes for the perfect simple meal.
13. Chipotle Lime Wings
Smoky chipotle pepper and fresh lime juice give these sticky, sweet chicken wings a spicy, tangy punch.
14. Fried Chicken
Ah yes, the classic American staple. Now made perfectly, delicious GF.
Dinner
15. Turkey a la King
Every bit as regal, rich, and satisfying as it sounds. Trust us.
16. Coconut Curry Soup
Truly, is there anybody that doesn't love curry? (No.)
17. GF and Low Carb Dinner Rolls
Slather these soft, warm rolls with butter or use them to sop up sauce, and they'll make any meal extra special.
18. Turkey Tamales
Packed with flavor and surprisingly simple to make, these tamales are just waiting to make your GF life that much tastier.
19. Sausage Stuffed Peppers
Okay seriously, you'll be asking yourself why these weren't in your life sooner. Try. Them. Tonight.
20. Tomato Basil Gnocchi
That's really all we should need to say. It's gnocchi! And it's fabulous.
21. Eggplant Lasagna
Everyone loves lasagna, and this version is so delicious, you won't miss the gluten at all.
22. Enchiladas
Listen, nobody's going to say no to enchiladas. And there's a reason.
23. Parmesan Meatballs
For those cloudy days when you know you need more than just a chance of meatballs.
24. Salmon in Cream Sauce with Zucchini Noodles
This keto-fied pasta dish is ready in just a few minutes and is so creamy and satisfying, you won't miss the carbs.
25. Seafood Bisque
Ooooh, so fancy, right? This light, fresh soup comes together super quickly and will 100% convince you that you're eating at a five-star restaurant in Paris.
Dessert
26. Cocoa Crackle Cookies
There's a tongue twister in there somewhere but we just can't find it…
27. Salted Caramel Horchata Ice Pops
Inspired by the refreshing Mexican drink, these ice pops are fragrant and perfectly sweetened.
28. Ginger Cake with Chantilly Cream
Clearly perfect for anybody that loves fall. Which is everyone. Right?
29. Cookies and Cream Mug Cake
Look, sometimes you just need some emergency cake, minus the messing around with a full-on recipe. That's where the mug cake comes in.
30. Giant Peanut Butter Cup
Let's say that again. Giant. Flipping. Peanut. Butter. Cup. *mic drop*
31. Cheesecake Strawberry Bites
A one-bite dessert that is light and refreshing with a mouthwatering tropical flair.
Snacks
32. Chocolate Peanut Butter Muddy Buddies
The perfect crunchy treat, our Muddy Buddies will serve you well for any occasion, from movie night to an afternoon snack.
33. Cinnamon Granola
Packed with protein and other nutritious goodness, this a power snack if there ever was one!
34. Spicy Nacho Cheese Rinds
Spicy, cheesy, crunchy–like keto Doritos…only better! Perfect for a picnic, school lunch, or a weekend hike.
35. Chicken Crackers
Yes, there are GF crackers you can buy at the store, but these are soooo much better and approximately 5364 times more fun.
36. Pretzel Bites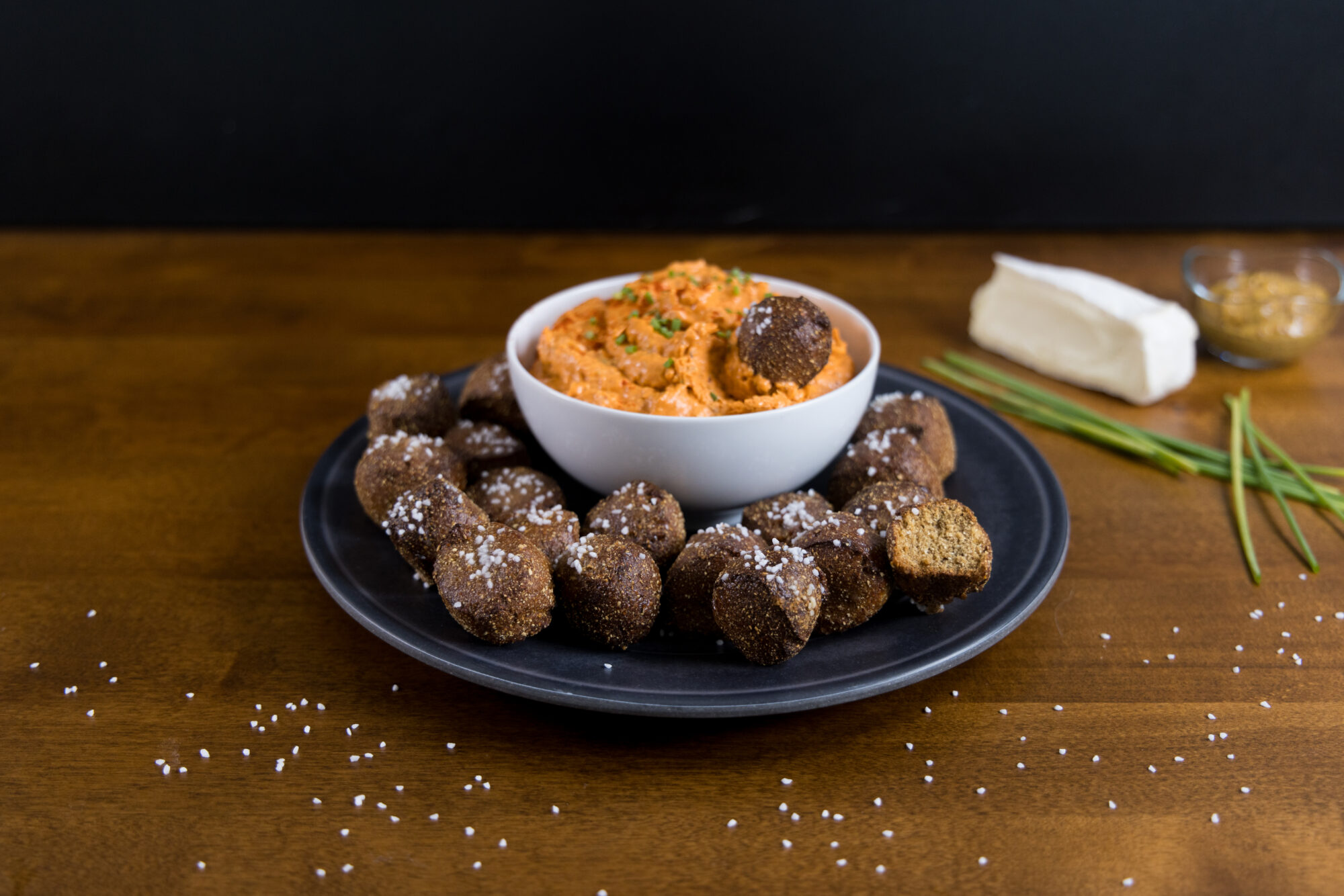 What is it about the salty savoriness of pretzels that make them so freakin' delicious? We don't know, but thank goodness for this GF version.
Make gluten-free meals even easier!
Keto Chow is a gluten-free, delicious meal replacement shake that has 1/3 of your daily recommended nutrients. And it only takes minutes to make! Choose from over 30 flavors of shake and soup base mixes.