A year ago I detailed how I used HydroFlask insulated containers to keep my Keto Chow nice and cold.
I wanted my keto shake to be cold while I was attending classes at the DreamForce Conference in San Francisco.
I did it again a few months ago when I used a similar tactic on a trip to DisneyLand. Well, last week was DreamForce again – but this time, I had a new trick in my arsenal: Keto Chow muffins. I used the "brownie" recipe since it makes nice, substantial, muffins that stood up quite well to being in a backpack for a few days. I cooked 12 meals worth a day before I left and froze them so they would last longer out of the fridge. When we reached the AirBNB (that was half way to San Jose, it was nuts) I put my bags of muffins in the fridge along with the Trader Joe's shelf-stable whipping cream.
For liquid Keto Chow, I brought along 4 days worth of Cookies & Cream in day packs – made for easy transport and since I was mixing up 3 blender bottles at a time, I used a carton of cream and a day pack of Keto Chow in their entirety each time. The blender bottles would go in the fridge for overnight chilling and most of the time I just kept it in the blender bottle and had that for breakfast with 2 meals worth of the muffins in ziploc bags in my backpack (along with keto snacks). Here's my backpack ready for a day of class: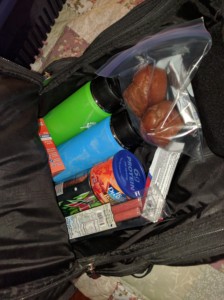 The muffins were nice and flexible since they should last unrefrigerated for at least 3 days. If I ended up having something keto at a restaurant, the muffins would go back into the fridge when I got home for the next days' meals. In all, it worked out great: I stayed in ketosis, didn't gain any weight on the trip, and didn't have to worry about meals. This last point was really important as our AirBNB sucked for finding a place to eat. One of the guys I was traveling with ended up having several of my muffins on several occasions rather than going out for food after a long day walking around.
I ate Keto Chow in class, in line, walking down the street, I even ate two of the muffins on Alcatraz island (in the area where food is permitted, naturally).