So first the good news: The roll out of Keto Chow 1.5 is nearly complete. Rather than list what
is
updated to 1.5, I'll just list what
isn't.
Weeks
Samples
Banana and Butter Cream Toffee (as they're discontinued but I still have some)
Chocolate Mint
Snickerdoodle
Vanilla
Cookies & Cream
Days
None. They're all switched over.
Now for the bad news: Up until last night I hadn't missed a single rep doing StrongLifts. It was inevitable that I would and it finally happened. Last week I was able to finish the full set of Overhead Press doing 95lbs but doing 100lbs was too much for me, even resting 5 minutes between sets: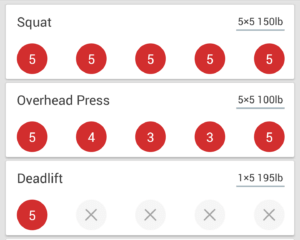 Well, life moves on. The kids asked for Strawberry and Peanut Butter keto chow today.