Looking for quick dinner recipes-that-are-so-simple-they-aren't-really-recipes? Here are some of my favorite keto proteins and how to cook them.
1. Eggs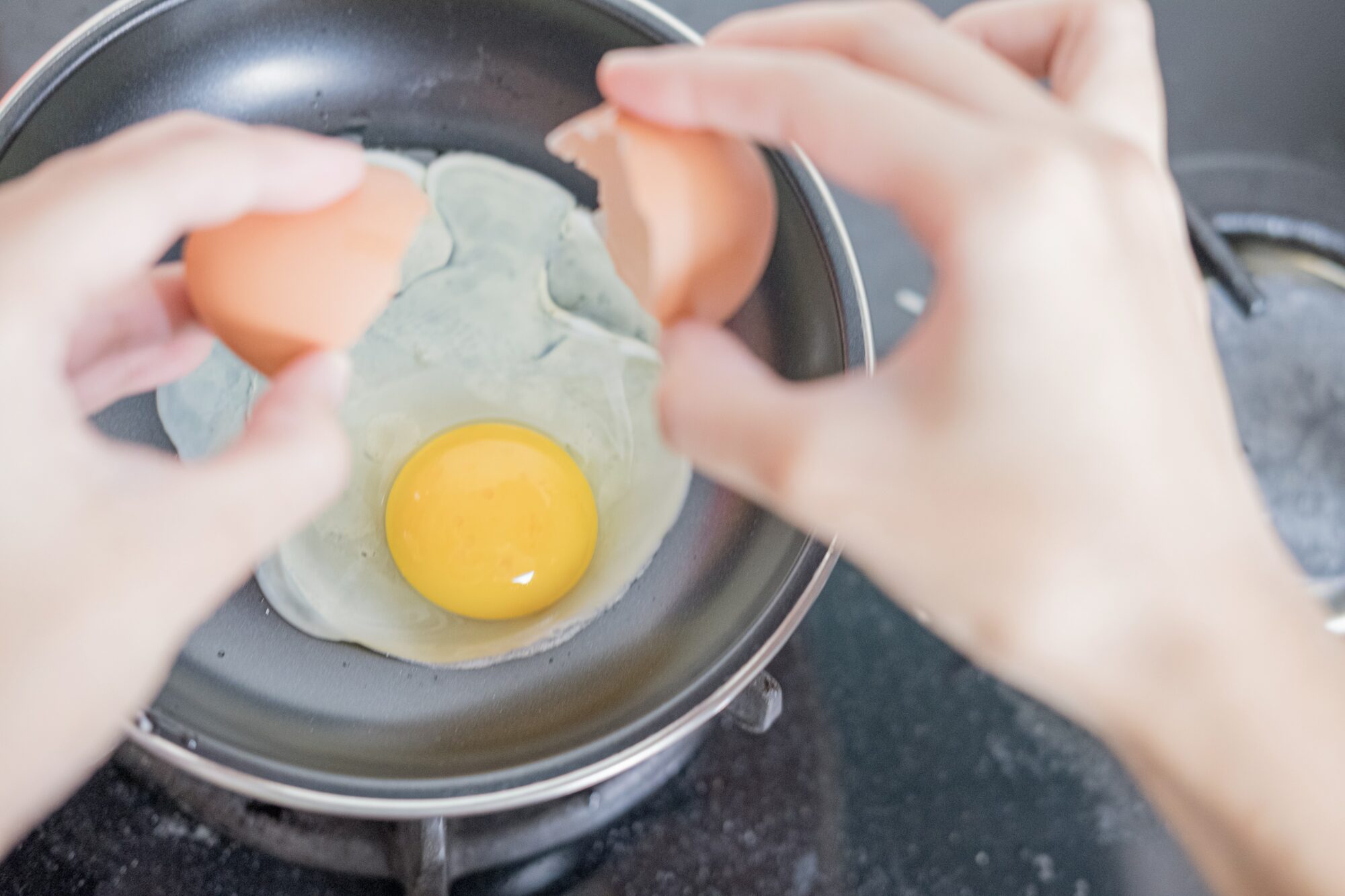 Fry, scramble, boil, bake..even microwave them. It really doesn't get any easier than eggs and their macros are crazy keto friendly too. For the best scrambled eggs, crack two or three large eggs into a bowl and beat them with a fork until the whites and yolks are completely mixed.
Place a small non-stick skillet over medium-low heat, add two generous pats of butter, the eggs, some salt and pepper, then gently stir the eggs in the pan until they start to form large curds. Turn the heat off and let the residual heat of the pan cook the eggs until they are just set. 
And there you go—delicious restaurant-worthy scrambled eggs with next to no effort. 
2. Bacon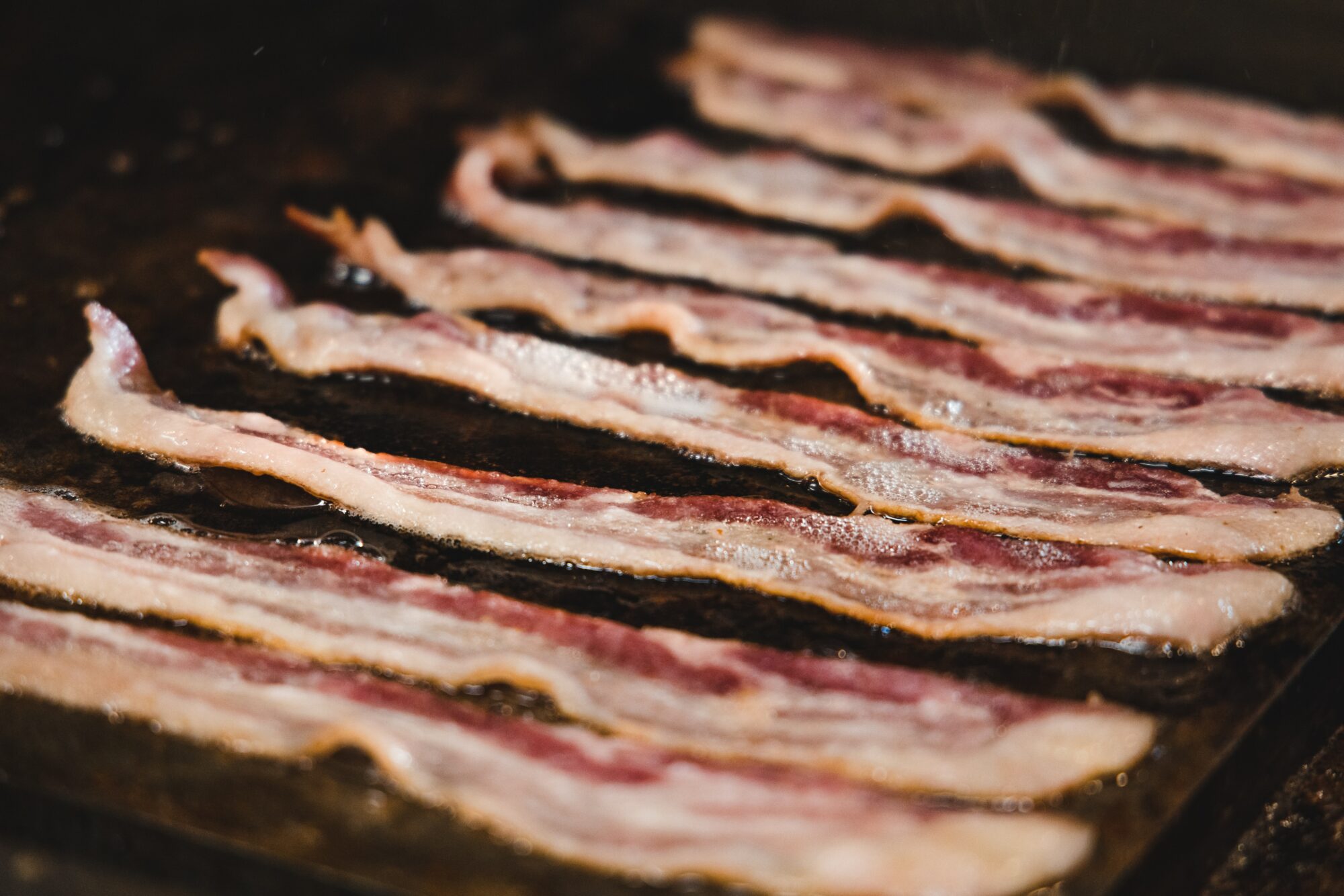 There's a reason it's a keto favorite. Spread bacon on a rimmed sheet tray lined with tin foil and bake in a 350℉ oven until crispy (about 15-20 minutes, depending on the cut of the bacon). Try beef bacon, lamb bacon, and duck bacon for variety.  
3. Tofu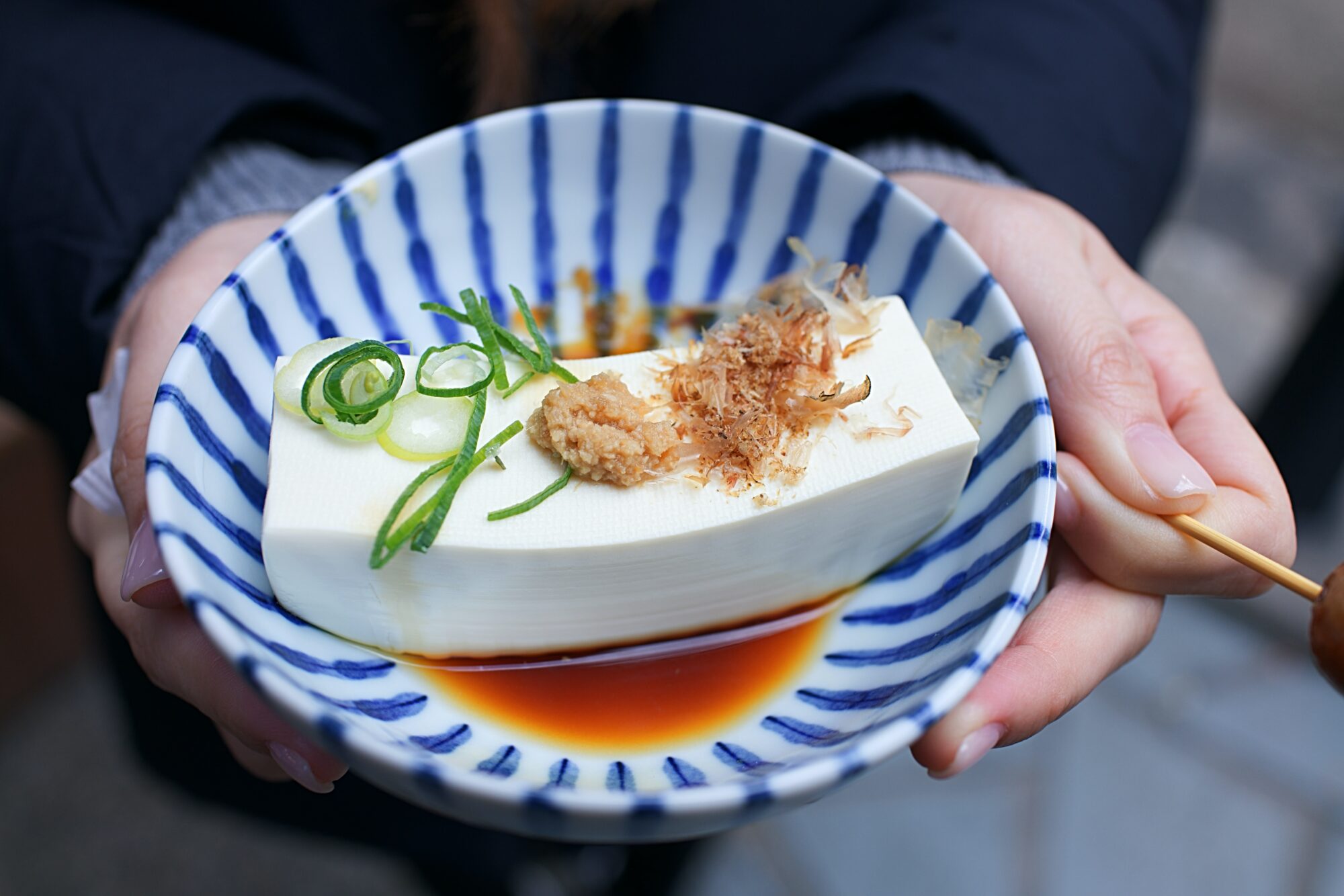 A low carb, traditional source of vegetarian protein that cooks as fast as an egg and can be used in almost as many preparations. Firm tofu can be used in stir fries, soups, stews, sandwiches, salads, and casseroles. Silken tofu can be used in quiche, soups, desserts, breakfast bakes, smoothies, and more.
To make a quick protein for any meal, squeeze extra water out of a cube of firm tofu, slice into pieces and fry in avocado oil in a hot skillet until golden (about three minutes). Add a dash of coconut aminos, and a couple drops of hot sauce to the pan and cook until the seasoning is absorbed. Serve immediately or store in the fridge for later meals. 
4. Lamb Chops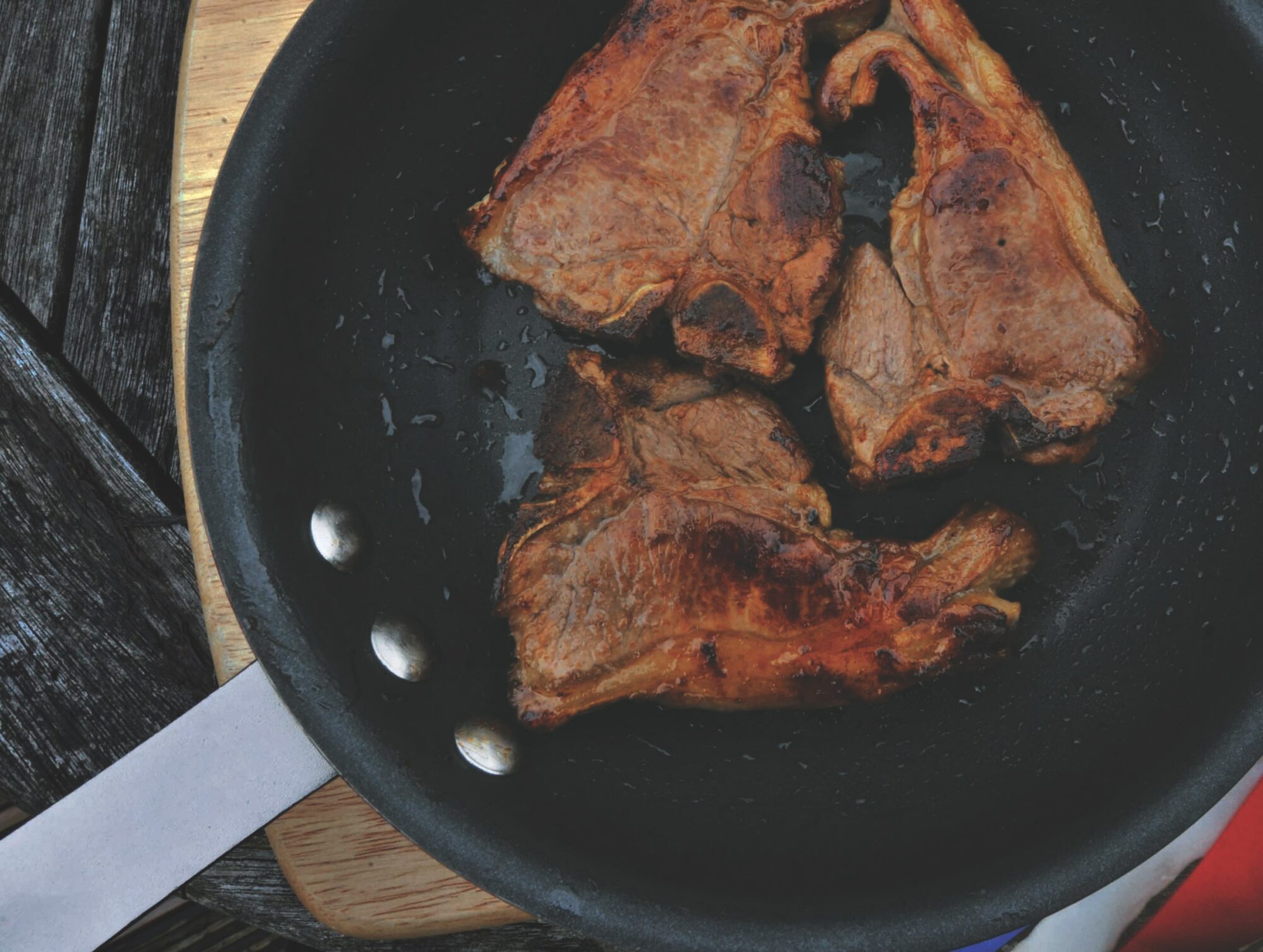 Lamb chops can be a kitchen staple for quick meals that are full of flavor, nutritious, and easy to cook. Look for loin chops (which look like mini t-bone steaks) and rib chops for the quickest, easiest, tastiest results. Season lamb chops with salt and pepper and cook in a heavy bottom skillet over medium heat with just enough oil just to cover the bottom of the pan.
If the chops have a layer of fat along the outside edge, turn them on their side so the fat can brown in the pan. Cook until they feel firm to the touch and register an internal temperature of 150℉ for medium doneness. Let rest for five minutes before serving. They will reach 160℉ as they finish cooking out of the pan.
5. Sausage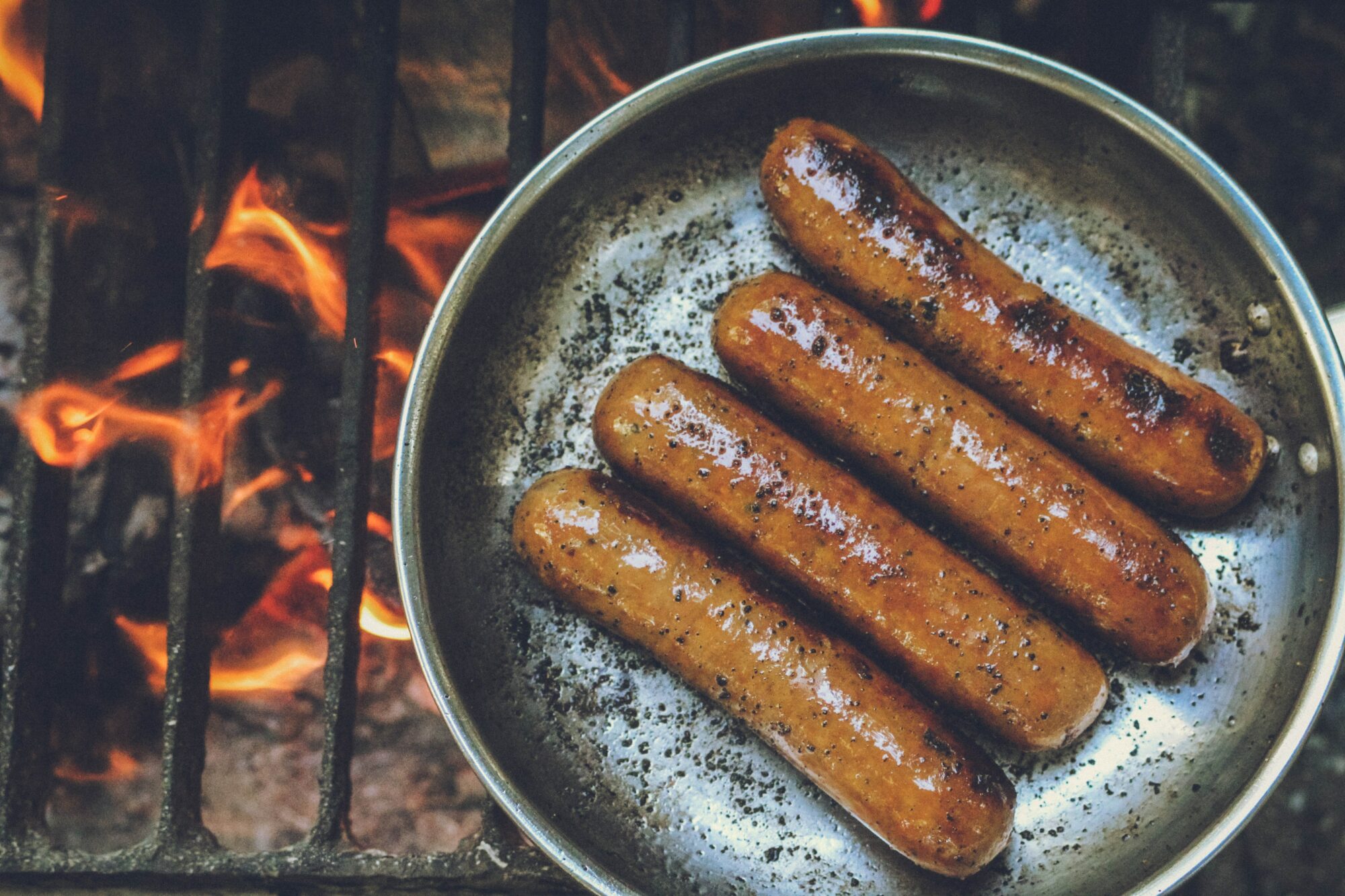 A convenient, versatile protein that comes in tons of varieties. Look for quality sausage that doesn't contain too many starchy fillers or sugars. To cook fresh sausage, prick the casings (if applicable) all over with a fork. Place the sausages in a large skillet with enough water or stock to almost cover them. Bring the pan to a simmer and cover with a tight-fitting lid.
When the sausages have released some fat, and they are almost fully cooked, remove the lid and let the liquid evaporate. The sausage will brown in its own fat and stay juicy. 
6. Salmon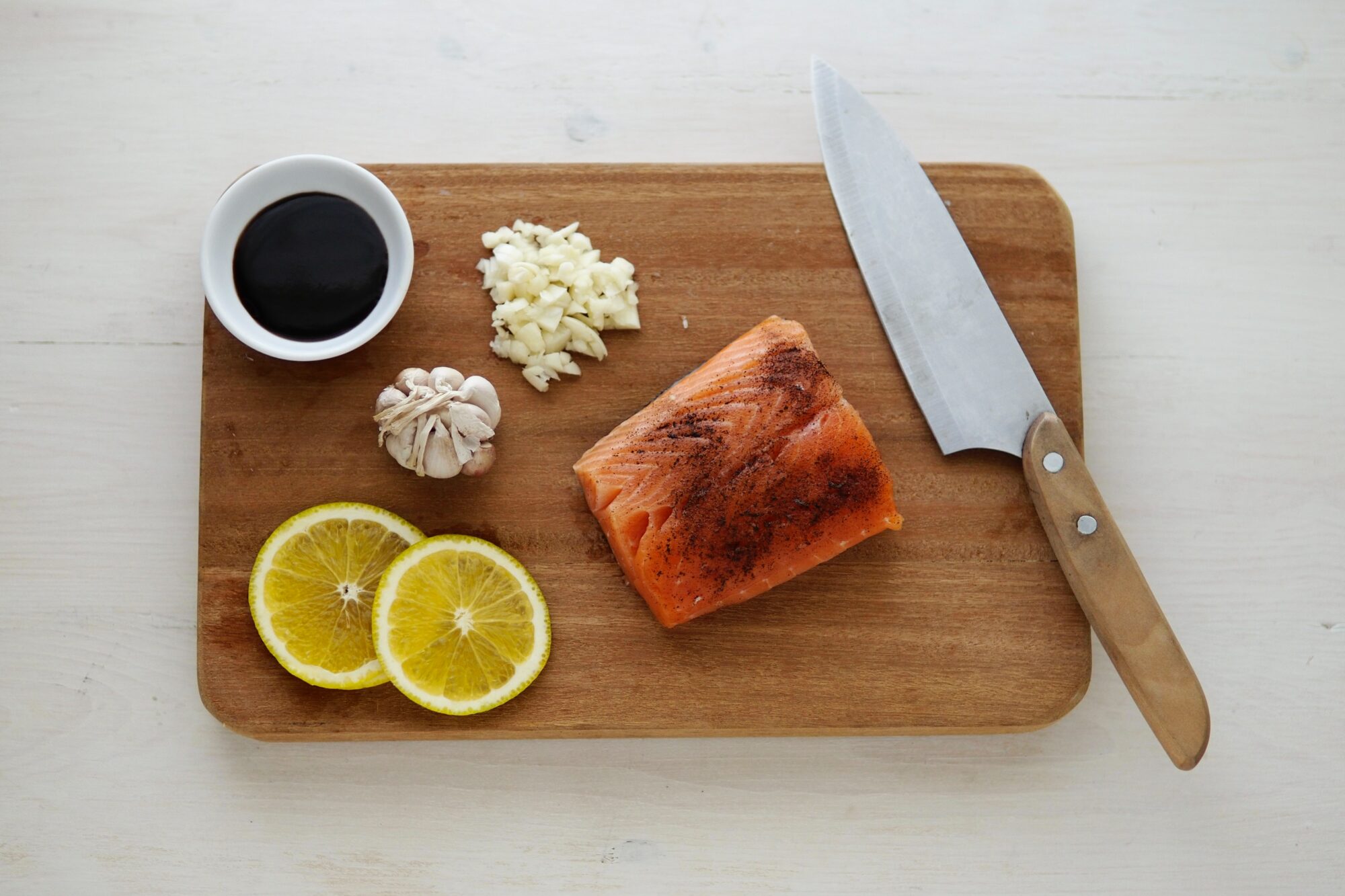 Full of healthy fat and protein, salmon is versatile and so easy to cook. It's great to cook in small portions and usually takes less than 20 minutes to get on the table. Season salmon as desired (lemon-pepper is a great, classic choice) and bake skin side up on an oiled tray in an oven at 350℉ or in an air fryer until skin is crispy and the flesh is starting to flake apart easily and looks just barely opaque.
7. Chuck roast
This beef cut may seem daunting, but it is one of the easiest cuts to cook with the most delicious results. The fat to protein ratio is great for keto, the cut is still reasonably economical, and the leftovers can be used in all kinds of dishes. Look for a cut of chuck with plenty of marbling.
Brown the roast in a heavy bottom pot, like a Dutch oven, season with salt and pepper, cover the roast with beef stock and bring to a simmer. Turn the heat to the lowest setting and allow the roast to cook gently until it is tender enough to cut with a fork (about 2-3 hours).
You can also make it into shredded beef with gravy. Check out the recipe or watch the video above.
8. Keto Chow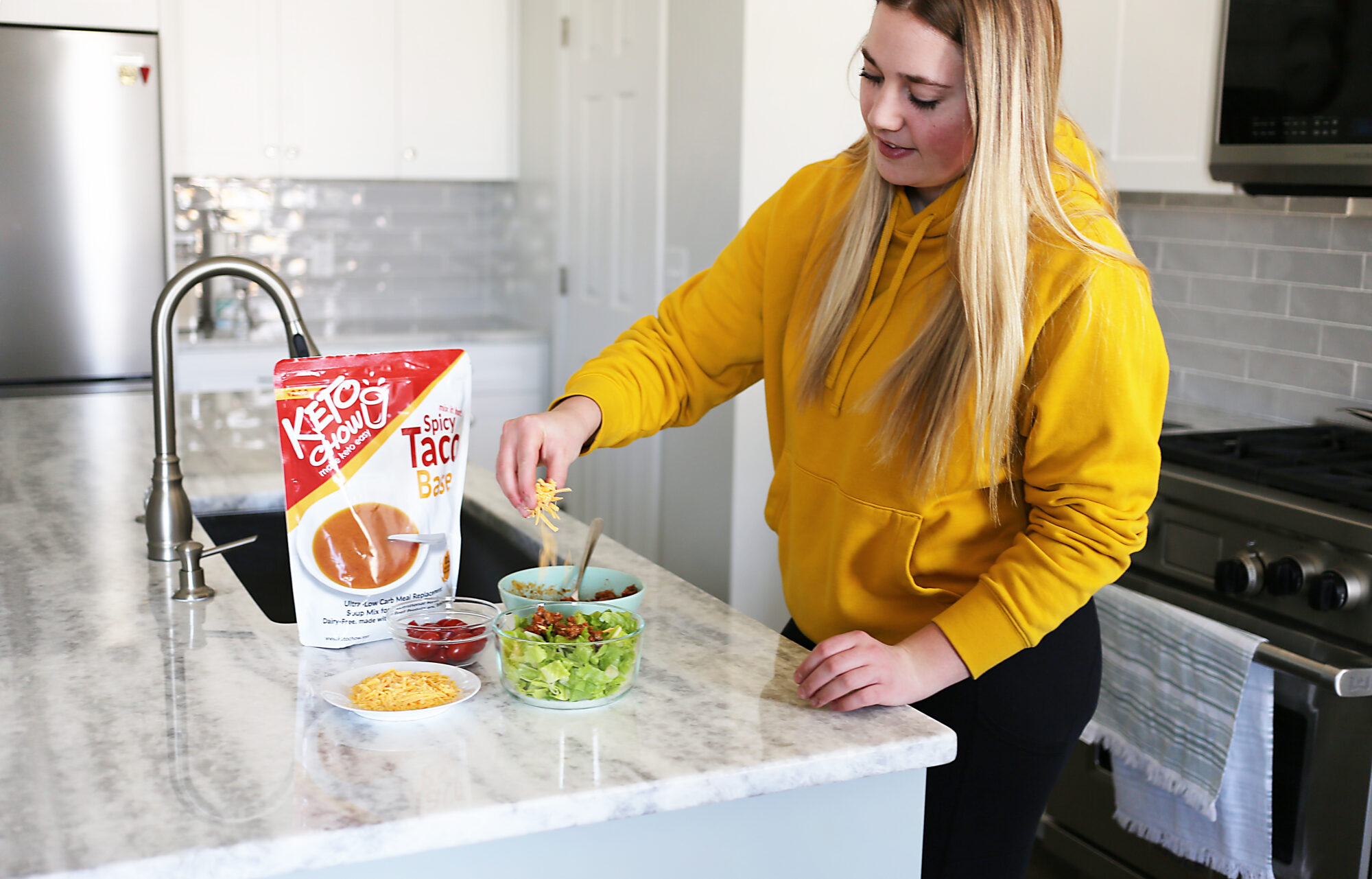 Keto Chow, a keto protein powder with 1/3 of your daily recommended nutrients, can actually be used in a variety of different recipes! Easily get more protein in your diet by adding Keto Chow to fried chicken, coconut macaroons, flatbread and more!
Not up for any cooking at all? Simply add a serving of our keto protein powder, your choice of fat, and around two cups of water into a BlenderBottle®.
9. Ground Meats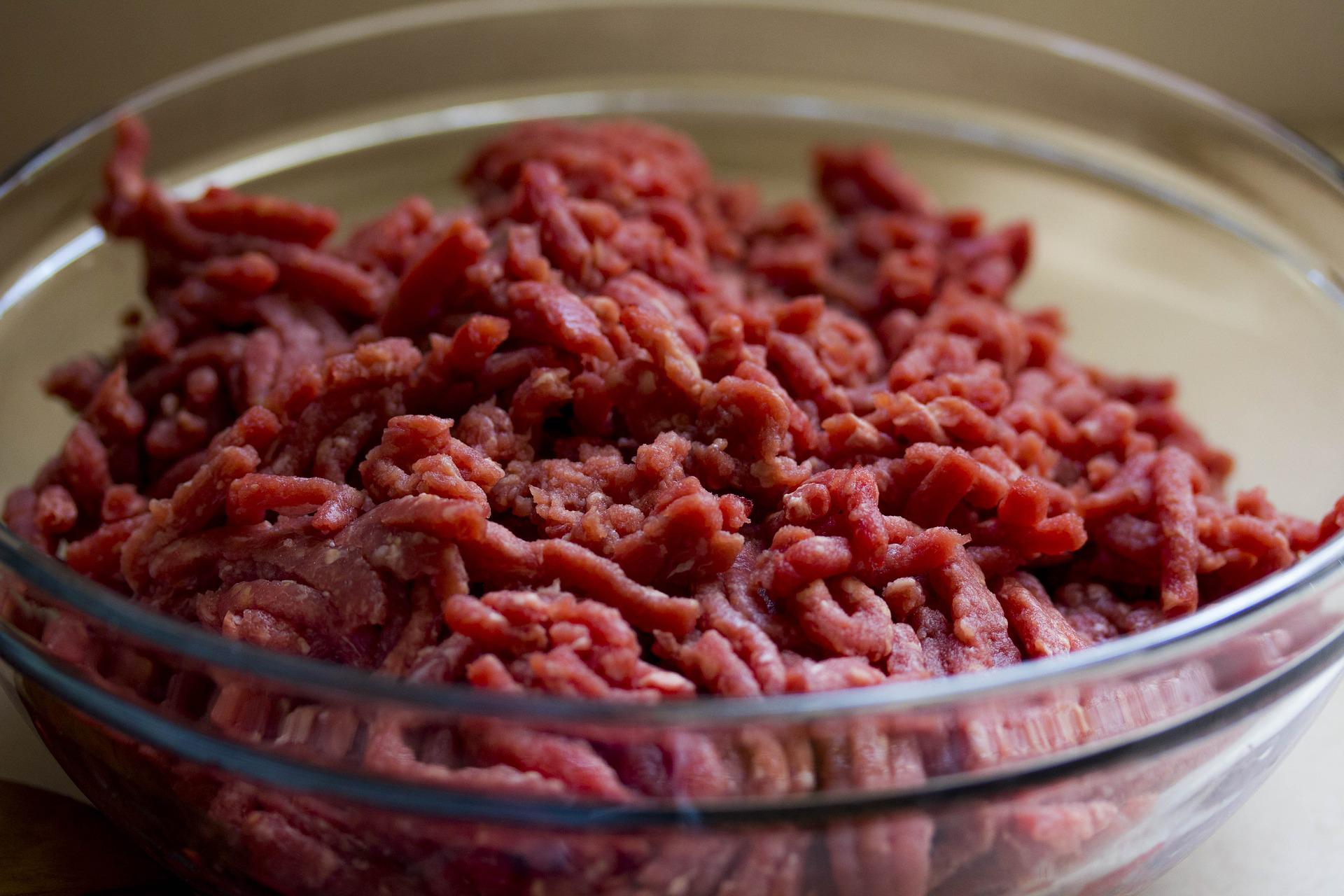 Is there a protein easier to cook than ground meat? Ground beef is a classic staple, ground pork is fatty and versatile, ground lamb is nutritious and adds variety, and ground turkey can be used in any preparation you can imagine with a lighter flavor that some find more appealing.
You don't have to make meatloaf or even burgers to use ground meat to your advantage in the kitchen. Cook ground meat in a skillet with your favorite seasoning blend, top with hot sauce and a sprinkle of cheese and eat it for a quick, tasty protein boost. Cool extra cooked meat and keep it in the fridge to top cauliflower rice, fill omelets, mix with vegetables, or add to soups. 
10. Chicken thighs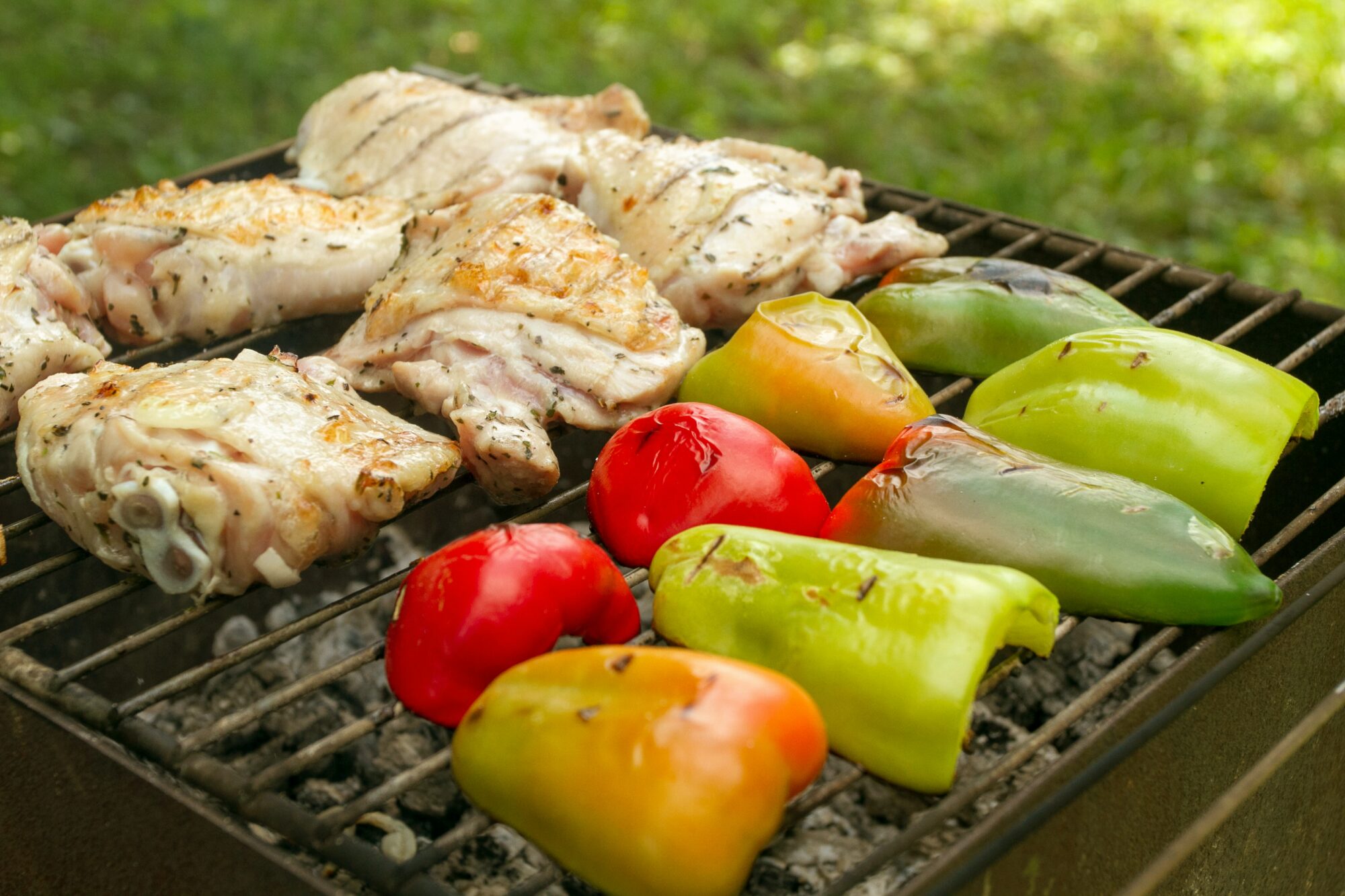 They are more forgiving than chicken breasts to cook, and usually more economical in price too! Grill, roast, fry, or bake them. Use in soups, stews, stir-frys, curries, and casseroles.
Choose equally sized bone-in, skin-on chicken thighs, then brown them skin side down in a heavy bottom pan with a tight-fitting lid.
Turn the thighs skin side up, add stock or broth to the pan, scrape any browned bits off the bottom of the pot, add garlic, onions, and a bay leaf or any aromatics you like to the pan, turn the heat to low cover, and cook about 30-40 minutes, or until the thighs are falling off the bone. 
11. Pork chops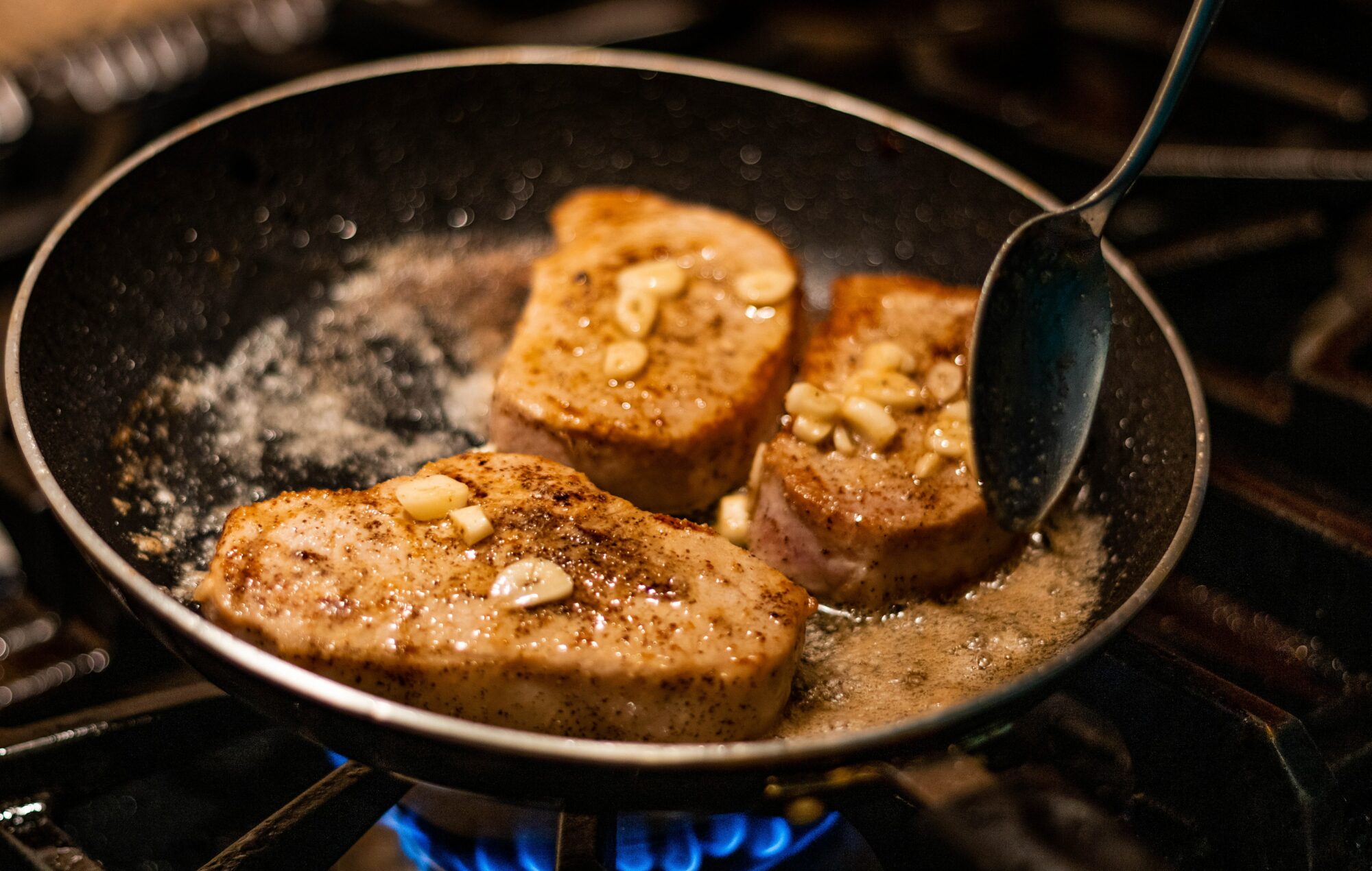 Quick and easy to cook, pork chops are mild in flavor, meaty, and satisfying. They pair well with almost any seasoning or side dish. Make the easiest "fried" pork chops by dipping boneless chops in egg wash and then coating them with pork rind crumbs.
Bake them in the oven at 425℉ for about 20-25 minutes, or until they register at least 145℉ on an instant read thermometer.
12. Tuna steaks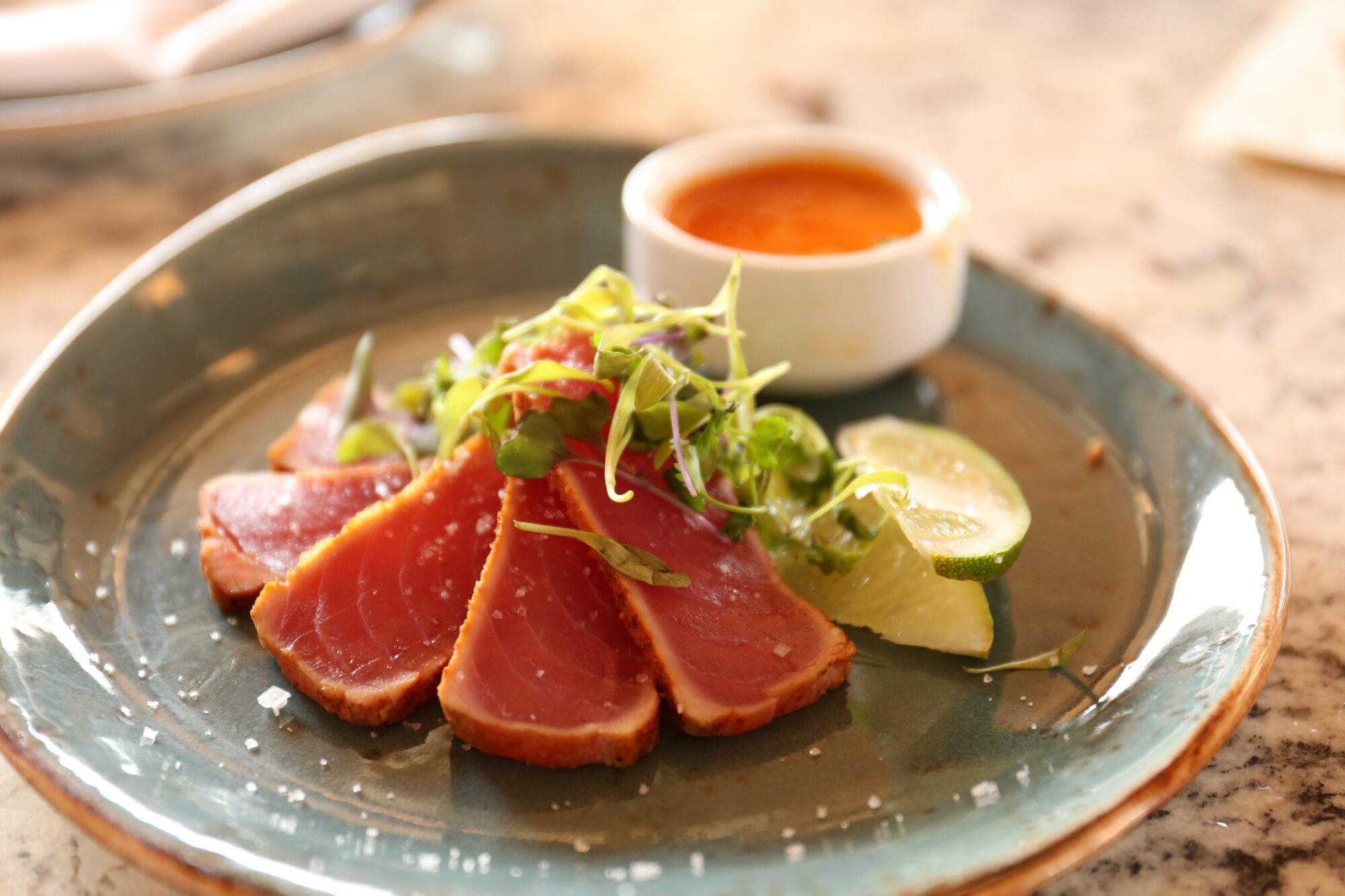 Even many non-fish lovers can enjoy seared tuna steaks. Try lightly coating tuna steaks with oil, seasoning them with salt and pepper, and cooking them on a foil lined tray under a hot broiler. About three minutes cooking on each side should be enough for a tuna steak that is seared on the outside and still rare on the inside, depending on the thickness of the steak.
Serve tuna steaks with steamed vegetables, coleslaw, cauliflower rice, and soy-wasabi dipping sauce—or make a sandwich with lettuce wraps and homemade tartar sauce. 
13. Steaks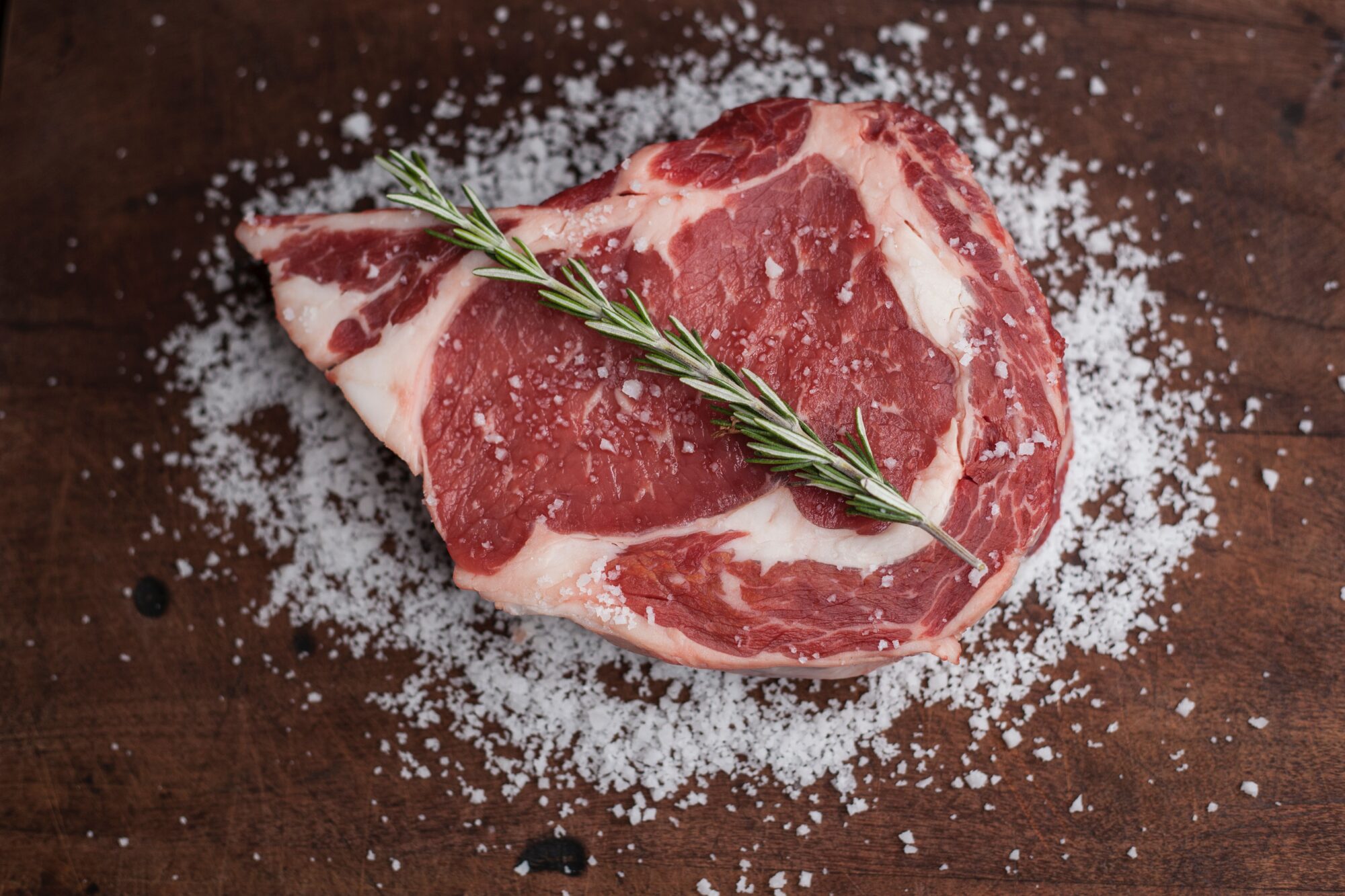 Beef is oh-so keto-friendly, and a juicy steak makes a great breakfast, lunch, or dinner. A good cast iron skillet is all you need to make a great steak at home. Heat it until it's blazing hot, then carefully place a fatty ribeye seasoned generously with coarse salt and pepper in the skillet.
Cook it on the first side until it has a brown crust and releases easily from the pan. Turn it over and cook on the other side until it has a nice crust on that side, too. Continue to cook, flipping occasionally until the steak is cooked to your preference, an internal temperature of 145℉ for medium rare, 160℉ for medium, and 170℉ for well-done steak. 
14. SPAM®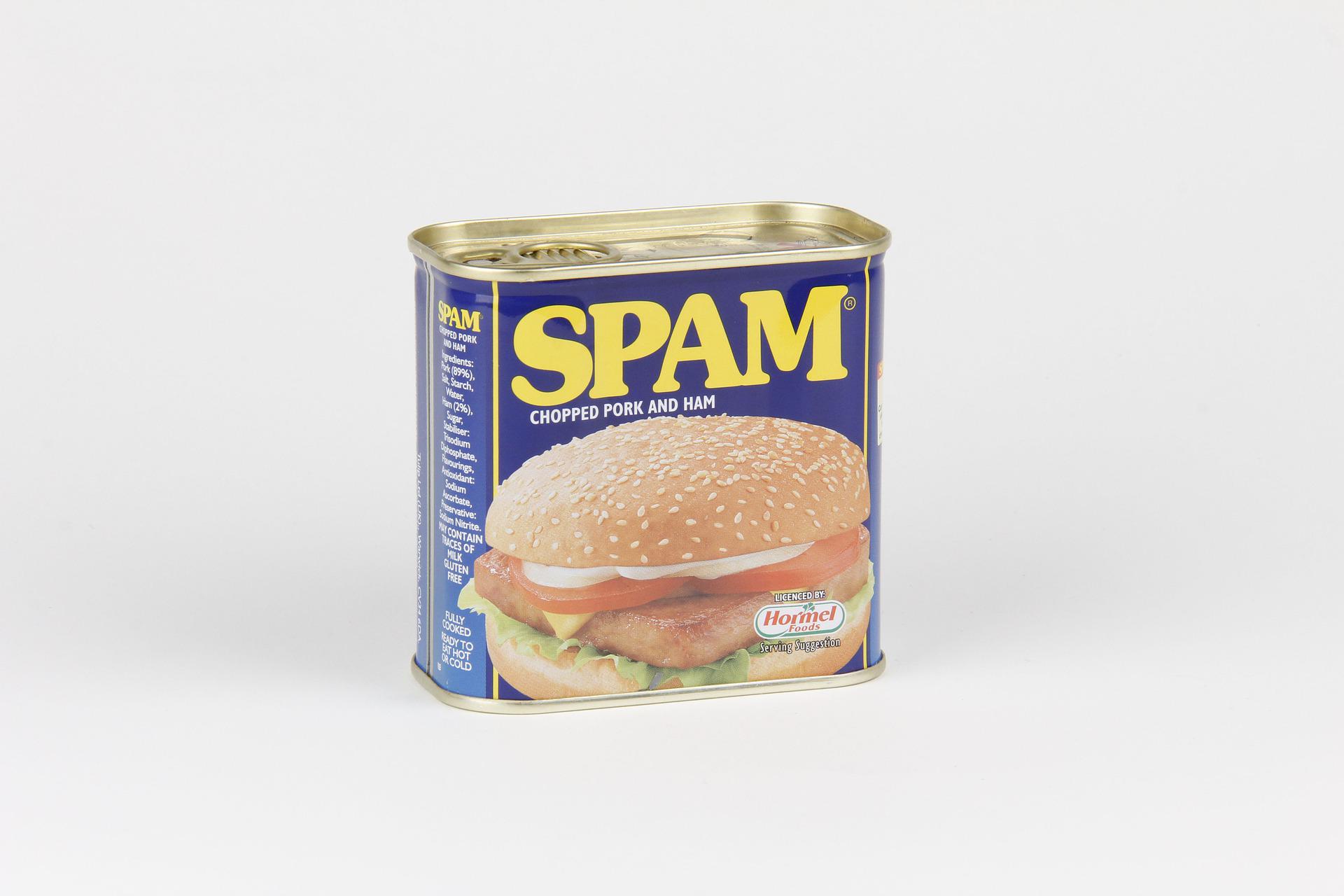 Popular worldwide for good reason, SPAM is easy to use and shelf stable so no refrigeration is needed to store it, which means it's great to have on hand for last minute meals. Simply remove it from the can, slice into slabs, and brown it on both sides in a hot frying pan, serve with fried eggs, on low-carb bread, or add to casseroles, soups, and stews. (And yep, it's keto!)
15. Shrimp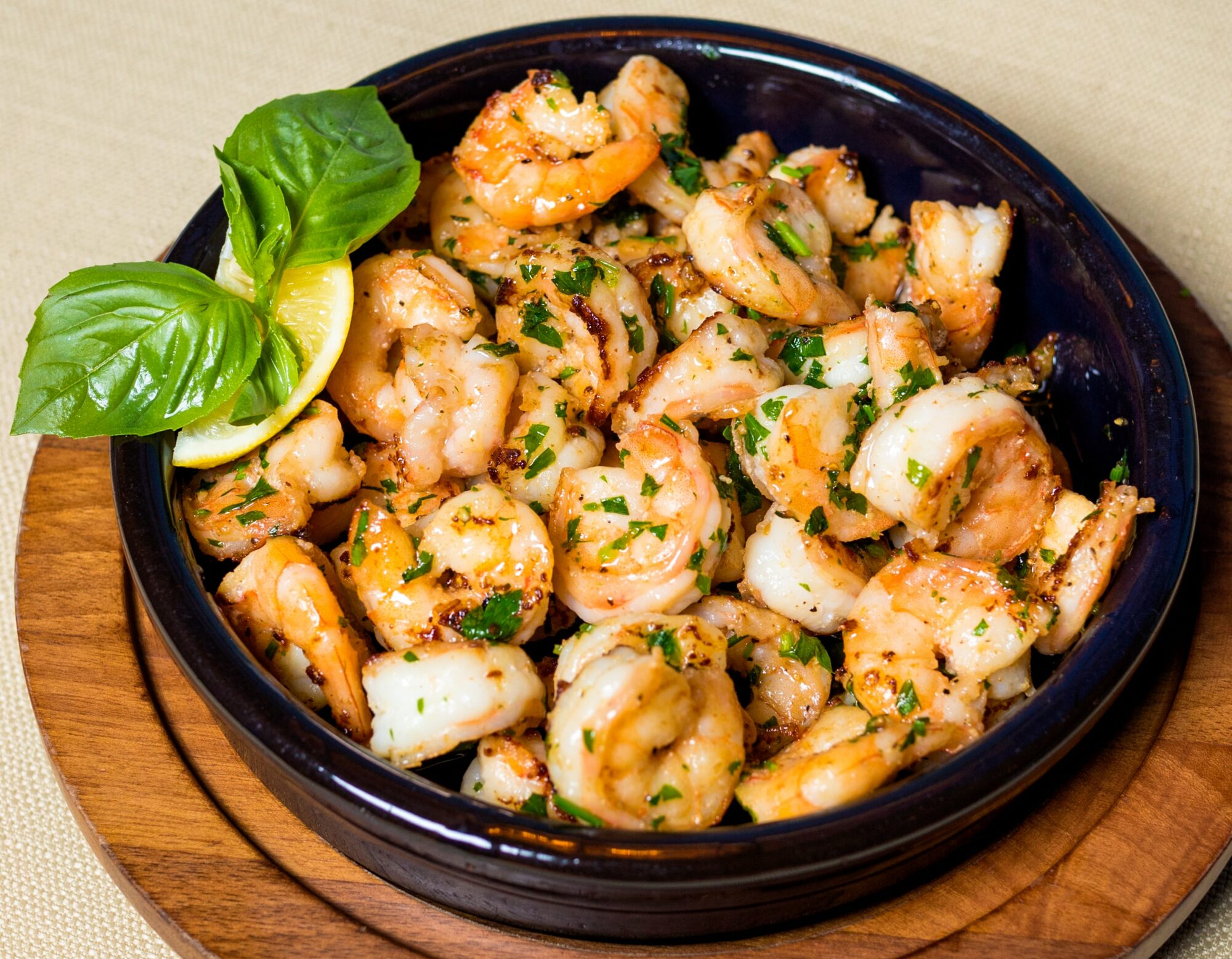 Quick protein for stir-frys, soups, curries, pasta dishes, appetizers, and more can be made with shrimp, fresh or frozen. Buy frozen shrimp peeled and deveined for the easiest meal prep. Cook fresh or defrosted shrimp in simmering water seasoned with bay leaves, lemon juice, and old bay seasoning for 2-3 minutes for most sizes of shrimp, or until just opaque.
Cool them quickly in ice water and serve them in salads, as an appetizer with cocktail sauce, or make shrimp salad by chopping them and mixing them with mayo, onion, and celery.
16. Chicken wings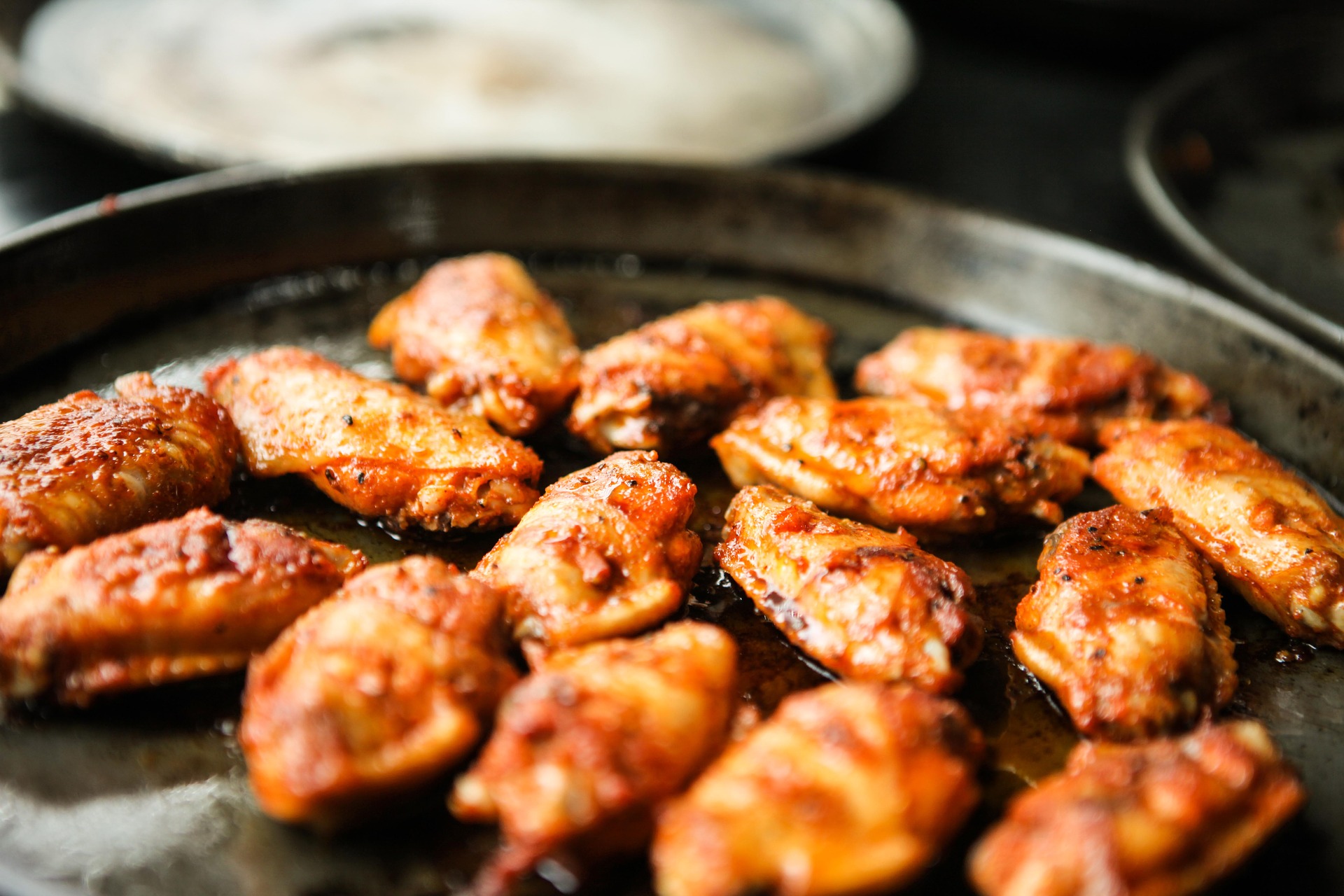 You don't need a fryer to make delicious chicken wings. Grill them, smoke them, bake them, or cook them in an air fryer for great results. Toss chicken wings in avocado oil, or spray them with cooking spray, and season lightly with salt, pepper, and granulated garlic.
Serve with your favorite wing sauce and a side of celery and blue cheese dressing or ranch. 
Looking for a protein you don't need to cook?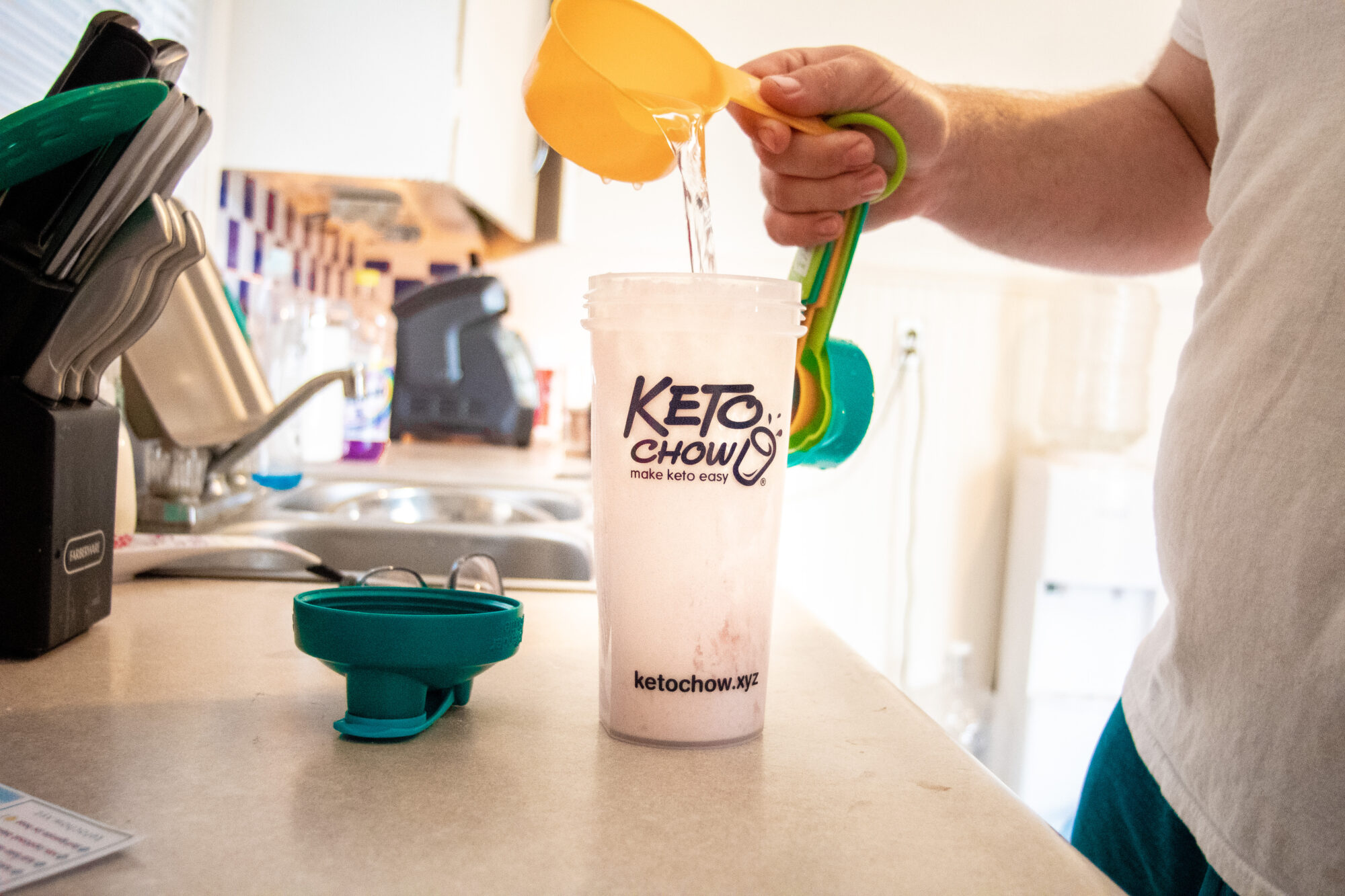 This product has already been mentioned in this article, but it needed another shout out. Keto Chow is a meal replacement shake that doesn't need any cooking but has 1/3 of your daily recommended protein (along with other nutrients!). Make it into a shake or use it in your favorite recipes!