Every year there's a really large (over 170,000 attendees) tech conference called DreamForce that's put on by SalesForce in San Francisco. I've been attending since 2014, in fact, it was DreamForce 2014 that catalyzed my resolve to do a Ketogenic Diet. This year I didn't just stay keto, I stayed 100% Keto Chow. I'm in the middle of an experiment where I'm only eating Keto Chow and only drinking water for all my meals. At first, I thought it was a terrible idea to do that during DreamForce, then I decided it was an awesome idea. Here's how I did it.
In the past, I've stayed at hotels with refrigerators, this time that simply wasn't an option. Most of the hotels near the conference were all booked up and the remaining ones fell into 2 categories: over $1000/night super swanky, under $75/night hostels with shared bathrooms. I went for the latter, luckily I got my own room without a bunk bed – but there wasn't a fridge. I had to come up with a plan for preparing Keto Chow using only shelf stable ingredients. I've used Trader Joe's shelf-stable whipping cream but I wanted to give Avocado Oil a shot, but before that – I wanted to give butter a shot!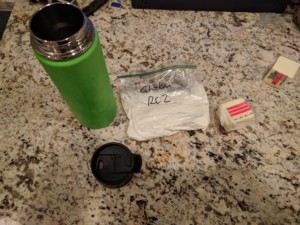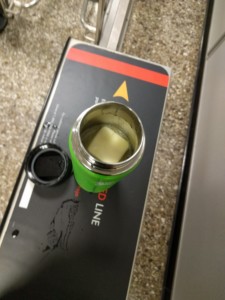 I'm testing out a new version of Keto Chow, it's very close to the current 2.0.2, just with some slightly different ingredients and with new flavors. One of these flavors is Savory Chicken Soup – it's meant to be consumed while hot. If it's hot, then I can use butter, which has the added bonus of not being liquid so I can make it easily through airport security without problems. I did the math and for my calorie target, I needed either a 1/2 cup of heavy cream, 1/4 cup of Avocado Oil, or a half stick of butter in each meal. So I put a bag of chicken Keto Chow and a half stick of butter into a HydroFlask. After going through security I found a coffee shop and the nice lady filled up my HydroFlask with crazy hot water (for free!). I dropped in the butter and Keto Chow powder and waited for my flight. I finally drank it around lunch time and it was still hot enough to slightly burn my tongue.
I did learn a very valuable lesson for dinner that night: don't put the powder in with the oil until it's time to add the water too. If you do, the powder and the oil will not ever fully mix with the water and you get floating crunchy powder blobs. It wasn't fun, I only drank about 3/4 of it.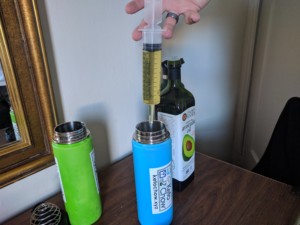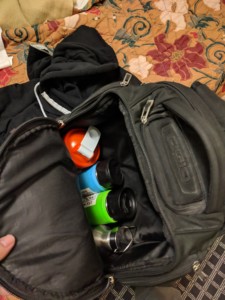 The rest of my meals were made in my HydroFlasks or Blender Bottle using Avocado Oil. I got a great tip in a comment that I should use a large syringe to measure the oil. That worked exceptionally well with a 60 cc/ml syringe. I would pour the oil into a disposable plastic cup and then fill up the syringe, squirt it into the container and repeat for all 3 containers. The only clean-up was wiping off the syringe tip with a tissue. I would have sandwich bags with the powder pre-measured in my backpack; and as soon as I got to a place with either ice water (regular Keto Chow) or hot water (the chicken soup one) I would prepare 2-3 of the bottles.
How is Avocado Oil? Well, if I hadn't ever tried Keto Chow with heavy cream, I would think it's awesome, but I have – so I still think it tastes far better with heavy cream and that's what I'm using now that I'm back home. For shelf stable purposes, for people with issues digesting the heavy cream, for those that are lactose intolerant, or for people that want insanely low net carbs, avocado oil is an amazing option. I'm planning on putting a bunch in my basement for emergency food storage. Coupled with Keto Chow powder and water, I'm set!
Most of my Cron-O-Meter entries for the last week look something like this: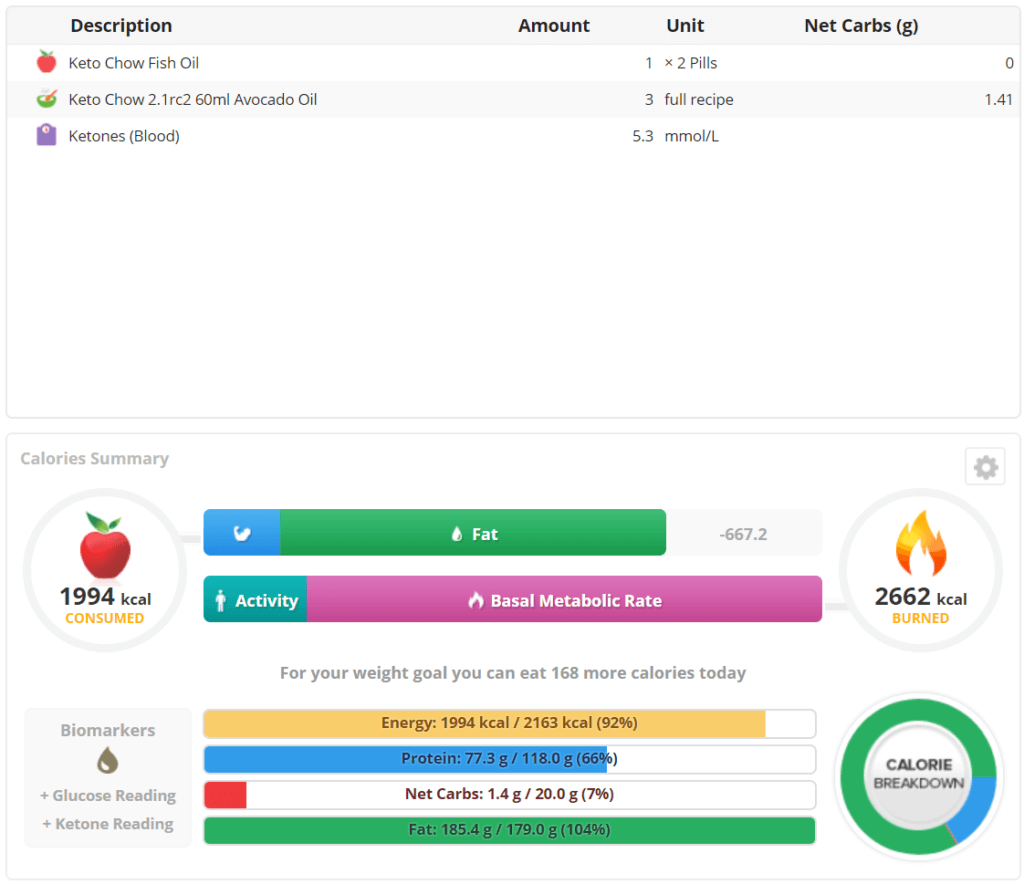 Yeah, that's 1.4g of net carbs for the whole day! That's insane. We're talking 100% of my daily nutrition: with all my fat, all my electrolytes, protein, and more – with 1.4g of net carbs. Along with the low net carbs, my blood ketones were consistently in the 4-5.5 range.
Staying Keto Chow only at the conference really wasn't that hard. When everyone else was standing in line for a lunch box, I was on-time for my next class. When everyone else was trying to find dinner accommodations, I drank mine (and often headed back to the hostel to sleep!). At the "DreamFest" concert, while all the people were scrambling to get hotdogs or the other food available (yeah like any of it would be keto friendly!) I just went and grabbed a seat – no fuss, no muss. The grand total cost of all my food for 5 days was $55.71 – that's a screaming deal at just over $11 a day.
The picture collection at the top of this post is the "headshot" photos they offer for free in the "Admin" zone at DreamForce. I've gotten one each year I went. The first one was taken about 2 weeks before I started Keto. That year during DreamForce I gained 4lbs. The next 2 years I was, and stayed, keto – but I still gained 2-3 lbs during the conference. This year? I lost 2.2 lbs the 5 days I was gone.