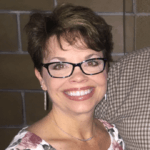 What a week it has been!  The beginning of the "butter phase" began Thursday evening when I prepared enough shakes to get me through the weekend because my husband and I were going to be away from home for a couple of days.  Because Chris had generously shared a new flavor with me, I had more variety than I was expecting to have available this week.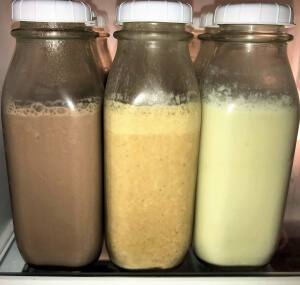 I made three shakes of each of the following flavors (pictured left to right):  Chocolate, Creamy Tomato Basil, and Savory Chicken Soup.  All the shakes turned out beautifully!  I was SO looking forward to tasting each of them – I honestly was ready for the two oil phases to end.
Mixing my shakes with butter as the fat source was a breeze.  It was no different than mixing shakes with heavy cream or with oil(s) for me because I already mixed all of my batches of shakes in a blender.  For people who typically use a Blender Bottle for mixing, there may a bit of an adjustment phase with mixing if they decide to try butter.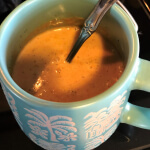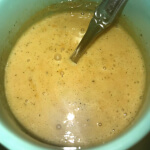 My first shake on Friday was the new flavor!  You can almost see how appealing it looks in the photos I took.  I could not decide which picture to add, so I am adding both!  I have to say it is very exciting to have another savory option on the menu.  (I can't wait to try the Spicy Taco flavor that is also being developed.)  My second shake of the day was Chocolate, and I was swooning over it!  Creamy deliciousness has been returned to me!  Did I warm it up the way I thought I would need to do for a shake made with butter?  No way!  That Chocolate shake looked all the same as a made-with-heavy-cream shake to me so I went for it with my straw.  Ah-maze-ing!
While I can't find the original post now (I was going to give them credit), I know someone commented on the Facebook support group on Friday that mixing the Salted Caramel flavor shake with butter as the fat source was a good combination.  Well, duh!  Butter is a primary ingredient of caramel.  I did not have any Salted Caramel in stock, so I quickly placed an order for Salted Caramel along with Snickerdoodle because – again, duh! – butter is a primary ingredient of Snickerdoodle cookies – and Cookies and Cream because – well, because it is my favorite flavor.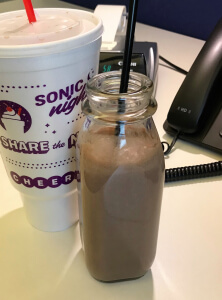 Chris has reported that his Chocolate shakes made with butter separate a bit after blending.  For the record, this has not been my experience.  This Chocolate shake (shown on the left, taken during my lunch break today) is from a batch I made Sunday evening – and today is Wednesday.  Zero separation.
Last week after I had a mini-meltdown about the scales no longer moving with a downward trend, a new friend kindly brought my focus back to my original goals.  Why did I even do the challenge?  Was it to lose weight?  No.  I said that I did not have a goal weight and that I did not know if I would even lose any weight on this journey.  When I unexpectedly started seeing real weight loss by Week 7, I got caught up in that.  Can I weigh less than 130?  Can I wear a smaller size of jeans?  Can I get below 120??  Can I weigh less than a certain sister/friend?  I think that a focus-shift like this is a natural thing to have happen to anyone, especially in our culture.  This new online friend was so thoughtful and gentle in her approach to me, that I was receptive to it in a way that I might not have been with someone else.  So I appreciate her.
Oh, I almost forgot to mention something else important that I experimented with on this butter phase – salted butter vs unsalted butter!  After that first weekend of using salted butter with all three shake flavors, I decided to give unsalted butter a try with my sweet flavors.  My vote for mixing with the sweet flavors is for unsalted butter but both are good!  You might try out different options yourself.  But definitely go with salted butter for the savory flavors!
In previous weeks, I pointed out that my ketone numbers went up when I was consuming MCT oil.  Well, guess what?  Those numbers came right back down when I stopped consuming MCT oil.  Check this out: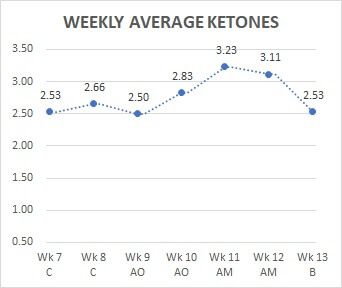 AVERAGE DAILY KETONE LEVEL
First six weeks of challenge with heavy cream:  2.0
Week 1 of science with heavy cream:  2.53
Week 2 of science with heavy cream:  2.66
Week 1 of science with avocado oil:  2.5
Week 2 of science with avocado oil:  2.83
Week 1 of science with avocado oil & MCT oil:  3.23
Week 2 of science with avocado oil & MCT oil:  3.11
Week 1 of science with butter:  2.53
Week 2 of science with butter:  ?
So my husband had agreed to go out of town for the weekend, and I rewarded him with…  wait for it…  crankiness.  This is sadly true.  I was mentally and emotionally out of my mind for several days (most of last week and over the weekend).  While I am feeling better this week, I am still evaluating my feelings, behaviors, and the reasons (hoping I can think of some justification).  One fact is that this journey has been challenging in ways I did not anticipate.  The first time I took this "only Keto Chow" road, I did not have a scheduled end date – I was doing it indefinitely.  So I never before had an "APRIL 12! APRIL 12! APRIL 12!" chant playing in my head like I do this time.  I do not like the sound of that chant, so last time around was easier in that regard.
We are down to "One week plus one day!"  Yay!  In a sense, it is hard to believe the time is nearly here.  But it is.  And it is exciting!