TL;DR 1.9 has a better vitamin/mineral source, MCT optional. If you've been following Keto Chow, you may remember the improvement that came with 1.5. The switch to 1.9 isn't a big deal like that =), you may not even notice anything has changed. The taste and texture are nearly identical. You may pick up a bit of "vitamin" aftertaste –
I
can taste it, though none of the other people I had test the new formulation could. I guess I'm just weird. To make sure it was completely safe for long term use I've been doing 1.9 for the better part of 4 months while I've been working on getting it in production. Most of the "Week" bulk packages have been switched over to 1.9 over the past week:
Rich Chocolate
Gourmet Vanilla
Chocolate Fudge
Chocolate Peanut Butter
Cookies & Cream
The Chocolate Peanut Butter and Snickerdoodle "Day" packages are 1.9 too. It's been rather stressful for my awesome wife to coordinate the changeover and using up the remaining 1.5 ingredients in a sane manner. The big change in 1.9 is that I'm using the vitamin/mineral pre-mix that is going to be used in Keto Chow 2.0. Because Keto Chow 2.0 is going to be manufactured on an industrial scale, grinding up Kirkland vitamins isn't really an option anymore. I needed a replacement that I can order in 1000kg increments. While I was at it I also had them incorporate all of the other ingredients that I was getting in small amounts (Calcium Phosphate, Vitamin K, Choline L-Bitartrate, Calcium/Magnesium Citrate, Vitamin D3) and took the opportunity to increase the amount of Magnesium. A higher than normal magnesium requirement runs in my family and I'd rather not have to take a magnesium supplement in addition to Keto Chow – so everyone reaps the rewards. Other vitamins and minerals have also been adjusted up above minimum levels to
optimal
levels along with optimal forms for bioavailability. For comparison, here's the nutrition information for 1.5 compared to 1.9 for
Rich Chocolate
: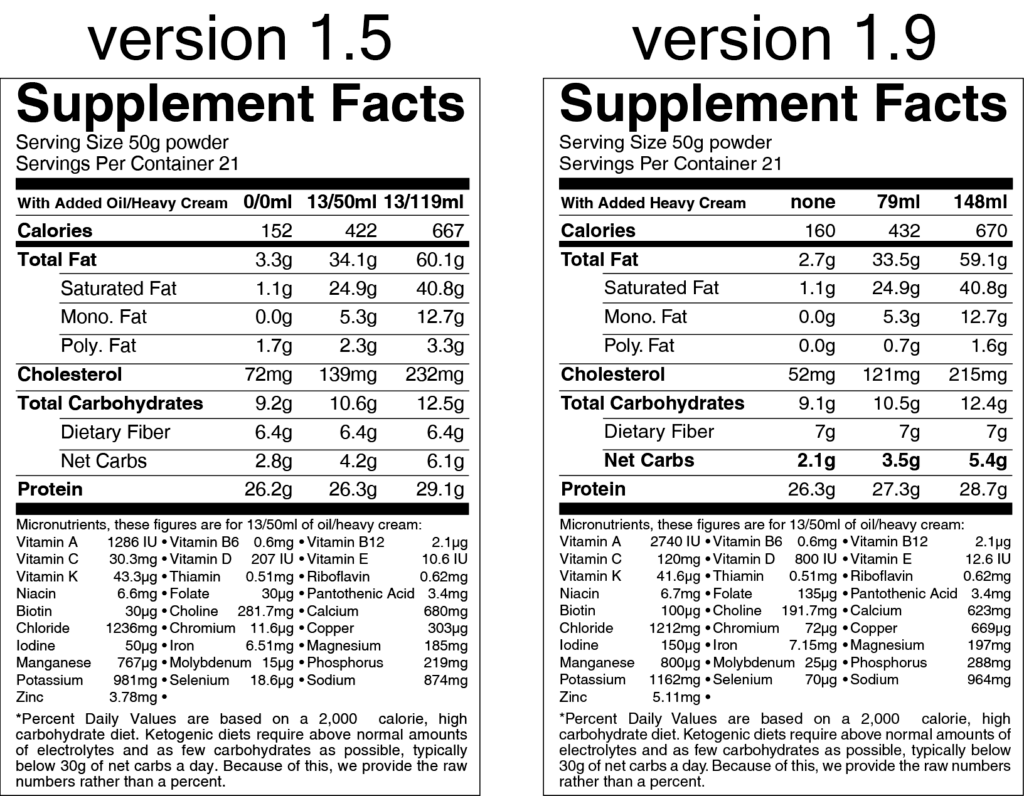 It should also be noted that the figures for 1.9 are assuming that the batch is only at the specified level. Each batch of pre-mix I get comes with a Certificate Of Analysis (COA) that gives the actual amounts in that specific batch. They tend to have a higher amount, especially for the vitamins that oxidize quicker to build in some longevity. After the "best used by" date you might be getting a little bit less of certain vitamins but not much less. In case you are curious and want to check it out,
here is the COA for the batch of pre-mix I just received
. This may be of interest to people in light of
a recent
reddit post on the subject of micronutrients. An additional change I'm doing with 1.9 is making MCT optional in the preparation instructions (it's still awesome for Keto though, so I recommend it if your bowels tolerate it). Because creating a custom vitamin pre-mix and ordering several hundred kilograms is outside a normal DIY recipe, I'm going to leave
the recipe for 1.5 alone
and fork the recipe for 1.9 over to a new location. Feel free to continue making your own 1.5 – it's not going away.